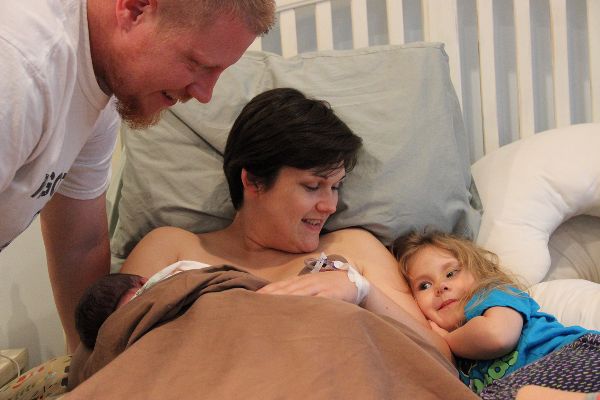 Lauren Flaugher recently gave birth to her gorgeous son, Finn, and was left shocked to discover that he was too big to fit on the scales in the hospital.
"The scale only went up to 12 pounds, so our midwife looked at me and said, 'We can't use it,'" Lauren, 29, told PEOPLE this week.
"I thought the scale was broken! But, turns out, Finn weighed 13 pounds at birth, so they had to bring in a bigger, digital scale," she added.
Lauren welcomed Finn, her second child with husband Joe, earlier this month at a freestanding birth centre staffed by certified midwives.
"I could not believe it when they said he weighed 13 pounds. I thought they had misread the scale, I kept thinking, 'This is not possible!' Joe thought the same thing."
And is if the size of the baby wasn't enough, Finn entered the world entirely drug-free.
Finn's birth was described as "intense" by Lauren, who chose to use the birth Centre's hot tub and shower - fair play to her.
"Part of the prep for natural birth was not to think of it as painful, but intense. And it was really intense - I felt very aware of what was happening to my body."
Lauren's husband was there holding her hand from the moment her water broke, until Finn entered the world.
"He got me popsicles when I wanted them!" she says. "And during the pushing he said, 'You're doing it! He's going to be here soon!' "
Finn, a little over 3 weeks old now, weighs 14 pounds 2 ounces — and is growing every day.
"My sister had big babies, too, but when Finn was born she turned to me and said, 'Lauren, you win!' He's a big baby with so much love."
Lauren explained that she was in labour for 8.5 hours, with only 30 minutes of actual pushing - YIKES.
"When I was pushing he got a little stuck, so we did some different maneuvers,The midwives were never concerned about his weight after birth, his blood sugar was good and he wanted to nurse right away and frequently after birth."
Congrats to the happy family!