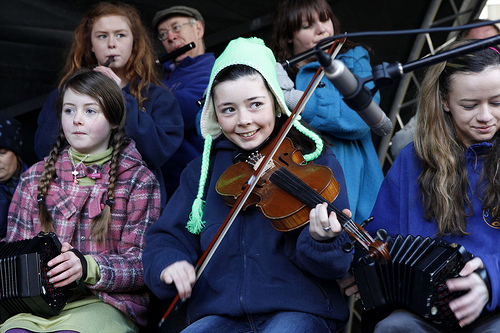 The very popular TradFest is returning to Dublin with a special family programme that will have kiddies and adults tapping their feet all over Temple Bar. The Ark is hosting the TradFest Family Hub this year. The Ark is a children's cultural centre in Eustace Street, Temple Bar and promises a weekend of fun workshops and performances. With lots of free and some ticketed events, there is something for everyone. Visit
www.ark.ie
for more info.
Events at the Ark
Want to take part and play yourself?
Drop in to the first ever free Children's Open Session led by by Ceoltóirí Chluain Tarbh on Saturday 28th Jan and Sunday 29th January (12 -2.30pm). This event is for 8 – 12 year olds who play an instrument. If you can play Irish tunes on your instrument then bring it along to the free open trad session especially for budding trad musicians.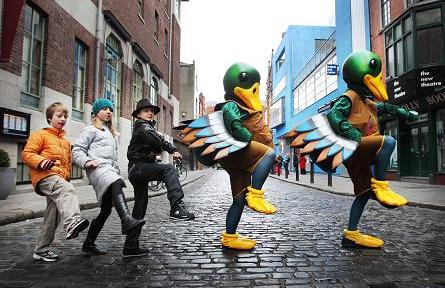 Want to dance?
Acclaimed Sean-Nós dancer Emma O'Sullivan (known for her TV appearances on the All-Ireland Talent Show) will have kids from 3 to 6 years of age dancing in her Little Feet Sean Nós Dance Workshops at The Ark (Saturday 28 January 11 – 11.45am). Tickets are €10 and children under 6 must be accompanied by a participating adult. Participating adults do not require a ticket for themselves for this workshop.
Emma is also hosting a workshop for children aged between 7 and 12 where they will be going jugs and reels. Children will have the chance to show off their new dance moves at the Feet and Fiddles concert that afternoon. Takes place on Saturday 28 January (12.30 – 1.30pm) and tickets are €10 at The Ark.
Concerts for all the family
Special family concert, Feet and Fiddles, will take place on Saturday 28th of January from 3-4pm. Fiddle tunes and stomp board sounds will be performed by Sinéad Madden and multi-instrumentalist Joanne McVeigh. Emma O'Sullivan will be dancing and fiddle duo Sephira (who have performed with Michael Buble and Westlife) will also be performing. Tickets for the concert are €10 at The Ark. The Henry Girls from Donegal will perform their Honky-Tonk Tunes and Family Harmonies Concery on Sunday 29th of January from 3-4pm at The Ark. Tickets for the concert are €10
Free Drop-In Craft Club
There is a free Children's Drop-In Craft Club taking place on Saturday 28th of January from 12-5pm and Sunday 29th also from 12-5pm. These sessions will take 30 minutes and admission is on a first come first serve basis. Children can help make a gigantic bodhrán, weave a magical fish, make a seanchaí mask or their own musical instrument.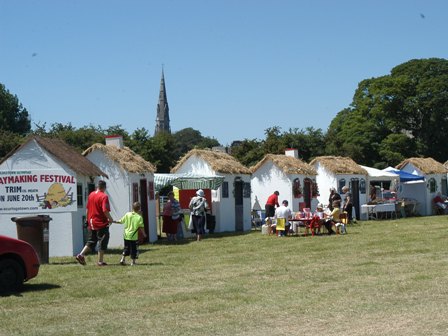 Rural Village in the City
Meath Beo is a collection of traditional festivals from Meath, will transform Temple Bar into a rural wonderland. A rural village will be temporarily erected at Christ Church Cathedral on Saturday and Sunday and there will be workshops on buttermaking and woodturning. There will also be an animal farm and traditional thatch cottages. There will be over 200 free events in the area over the Festival including, pipe bands, street performers, face painting and more!
Outdoor Stages
Two free outdoor stages will be erected in Temple Bar for the weekend and there will be a host of music and dance schools performing. Also performing will be Paddy Casey, Tupelo, Tucan and much more.
Family Fun in the Wax Museum
The National Wax Museum Plus will bring to life Dublin characters such as Molly Malone, Johnny Forty Coats, Bang Bang Dudley and the Dublin washer woman. You will learn about times past and great Irish writers such as W.B. Yeats and Oscar Wilde.
Inflatable cinema
Children will be entertained with this one-of-a-kind inflatable cinema where short Irish films will be shown and they will even have the chance to make their own movie in the film making workshops.