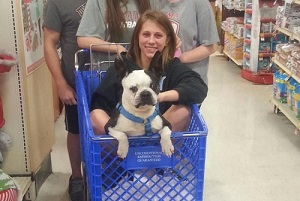 A mum and her daughter threw a 'going away party' for a dying dog to give him a loving send-off before he was put down.
Butch, a Boston Terrier, was abandoned as a puppy, and spent the majority of his life roaming the streets.
Sadly, Butch suffered with a swollen trachea that made it difficult to breathe, and was put down recently to end his suffering.
Alicia and Kansas Buzbee wanted to make Butch's last moments of life as enjoyable as possible, and so they decided to throw a special 'going away party' for him.
As well as taking him shopping for new toys and serving him up hamburgers and pumpkin pie, Alicia and Kansas also took Butch to visit Santa.
Speaking to AL.com, Alicia opened up on her desire to give Butch a loving send-off: "Before he goes, I want him to look into my eyes, and I want to look into his eyes, and I want to whisper, 'I love you. I love you. I love you'. I want him to hear those words and to see those faces of the people who love him."
It looks like Butch got a truly wonderful and loving send-off.