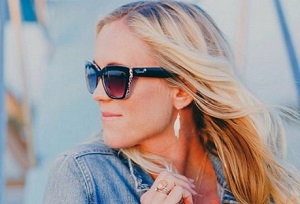 When she announced back in February that she was expecting her first child, famous mum-to-be and shark attack survivor Bethany Hamilton insisted that she would be continuing to surf throughout her pregnancy.
While her decision raised eyebrows in some quarters, it has produced some of the most incredible and inspiring baby bump photos that we have ever seen.
Bethany, who lost an arm in a shark attack back in 2003, took to her social media channels this week to show off her beautiful pregnancy figure and give her followers an insight into her daily routine.
The 25-year-old, who inspired the movie Soul Surfer, posted a stunning photo of herself sitting cross-legged on the beach in her bikini, gazing down at her blossoming bump.
"We're starting to feel ready for this lil boy to enter the world! Ready or not parenthood, here we come," wrote Bethany, who is married to Adam Dirks.
Bethany and Adam shared their wonderful news earlier this year, creating a beautiful video to make the big announcement. At the time, professional surfer Bethany insisted that she would keep up her beloved sport for as long as possible.
"I plan to surf for as long as I can. Once the belly is big I may, like, mellow it out and spend more time swimming and just enjoying the ocean," she said at the time.
It looks like she doesn't have too long to go. We wish her all the best with the rest of her journey.