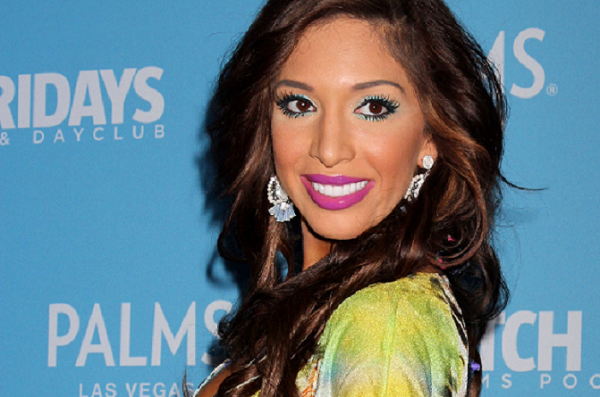 26-year-old Farrah Abraham announced today that she was fired from MTV reality show Teen Mom OG, which is returning to TV on November 27.
In a lengthy Instagram post, the reality star accused Viacom, the company that owns MTV, of unfair treatment. She alleged that 'Viacom let me go because as a Business Mogul I act like an adult and part take in adult promotions and activities that other adults do for FREE or in private!'
The former Big Brother star was referring to her appearances at gentleman's clubs and other adult entertainment ventures. She accused Viacom of hypocrisy, saying it was unfair that the company condemns her behaviour, yet allegedly glorifies sex on other TV shows they air.
Farrah also said she was incensed that the company continues to use footage of her and her daughter Sophia for promotional gain. The mum-of-one claimed that part of the reason Viacom fired her was that her brand has eclipsed the Teen Mom brand.
'I'm proud of myself not giving in to be sex shamed by Viacom network,' she continued, and said she takes pride in her work to advocate for safe sex and teen pregnancy prevention.
Farrah also proclaimed to her 1M Insta followers that she is 'basically winning against hurtful disgusting executives who do way more in their personal lives then what I could ever be judged for'. The mum added, 'I will never be broken by hateful wrong people'.
She became pregnant with her daughter in 2008 by her boyfriend Derek Underwood, who died in a car accident only a month before the baby was due.
Farrah has appeared in Teen Mom since its first season in 2009, and before that was on MTV show 16 and Pregnant.
"I look forward to writing my first business book and sharing all of these life-changing experiences in detail," she said towards the end of the post.
Well, that certainly promises to be a page-turner! Farrah also published a memoir in 2012 called My Teenage Dream Ended.
Her followers had mixed reactions.
One fan was sympathetic, saying, "Teen Mom OG is gonna be so boring without you Queen. I'm sure you can find another channel with your own reality tv show. Viacom is gonna regret their decision once the ratings will crash. Stay strong."
Another lashed out at Farrah, commenting, "I believe you are the one exploiting here, don't get it twisted."
What do you think of Farrah's firing? Let us know your thoughts!