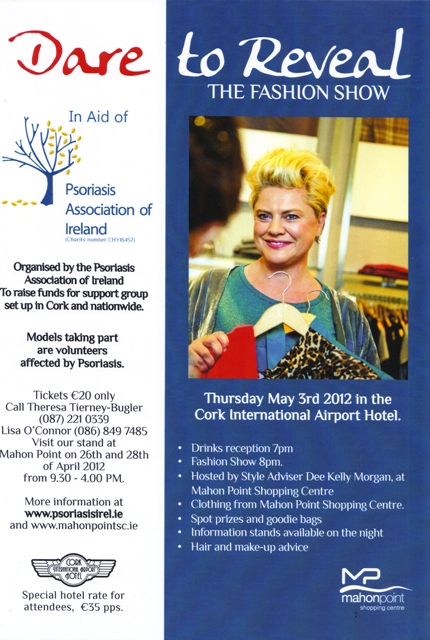 The 'Dare to Reveal' fashion show is being hosted by the Psoriasis Association of Ireland to increase awareness of the condition and establish local and national support groups. The fashion show is taking place at Cork International Airport hotel on Thursday, May 3rd.
Organisers Theresa Tierney-Bugler and Lisa O'Connor have secured a number of men and women to take to the catwalk on the night under the watchful eye of Dee Kelly Morgan, Mahon Point Shopping Centre stylist and adviser.
Mahon Point is providing clothes for the models and Clarins will be doing their make up on the night. There will be a drinks reception on the night from 7pm and the show will begin at 8pm. There will also be spot prizes and goodie bags, as well as fashion and make up advice for guests.
Tickets are €20 each and are available from Theresa Tierney-Bugler on 087-2210339 and Lisa O'Connor 086-8497485. They can also be purchased from the Fashion Show Stand in Mahon Point shopping centre on Thursday 26th and Saturday 28th of April.
For further information on the event contact Theresa Tierney-Bugler – 087-2210339 or email
trasbug11@hotmail.com