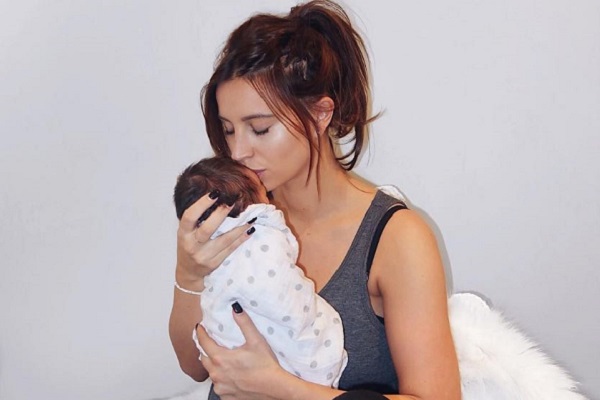 Her little girl surprised her when she arrived a week early, but Ferne McCann admitted that she couldn't be more in love with her newborn baby daughter.
The new mum welcomed her first child into the world this week. The former The Only Way Is Essex star made a very exciting announcement today.
She has revealed the unique name of her baby girl and we must confess that we are crazy about it.
Ferne took to Instagram to share the name, she posted the most heart-warming photo where she can be seen cuddling her baby daughter.
She wrote, "I thought today would be the perfect day to tell you all her name...meet Sunday."
We are crazy about the name Sunday, it's so adorable. We aren't the only ones who adore Ferne' s baby's name.
Her fans were quick to comment on the different name, it may be unusual, but they love it.
One fan wrote, "It's different, but I love it." Another added, "How unique and pretty all at the same time. Welcome to the world beautiful Sunday."
One fan shared a very sweet message, "My favourite name. Congratulations, she'll be your best friend for life."
Ferne isn't the only famous mum who has named their daughter Sunday. Nicole Kidman's nine-year-old daughter shares the same name.
According to NameBerry, Sunday is the most usable of the day names, mainly because of its "sunny opening syllable."
It is believed that there were less than 30 girls named Sunday born last year, which makes Ferne's little girl's name even more unique.
Ferne shared her baby news with her 1.8 million followers on Thursday. The proud mum shared a touching photo of her baby's tiny hands.
She wrote, "Welcome to the world my darling. Didn't expect to see you a week early." She shared that she adores her little girl, "I'm so in love & bursting with pride. It's a girl."
Becoming a mum for the first time is an overwhelming, but joyful experience. Ferne is ready to embrace this new chapter of her life.
She revealed that she will be raising her baby on her own. Sunday's father Arthur Collins is currently on trial for his involvement in an acid attack in a London nightclub that occurred back in April.
Ferne told OK! Magazine that she has plenty of support around her, "I have done this whole pregnancy on my own; but at the same time, I'm so not alone – I've got such a great support network with my mum, sister, and friends."
We know Ferne will be the greatest mum to little Sunday!