This weekend, the whole world was watching as Pippa Middleton married her long-time love, James Matthews.
And while, naturally, the bride was the belle of the ball, all eyes were on the royal contingent, including the gorgeous Prince George and Princess Charlotte.
While watching the live updates of the wedding, which included little George getting a royal scolding from his mum (and future Queen) for acting a scamp, it dawned on me that while the family are OBVIOUSLY privileged – they are just like us in so many ways. (bear with me)
1. The royal take-down
Take that picture of Prince George getting told off by his mum for standing on the bride's wedding train (messer) - George may be the future King of England, but right now he's just a toddler who gets up to mischief.
How refreshing to know that the royal kiddos are being raised in a somewhat normal environment, if they're bold, they get punished – crown or no crown.
2. Harry's antics
We can all (kind of) relate to the life of a royal is through Prince Harry's turbulent past. Listen, we've all been young and stupid, and nobody knows about that more than dear Prince Harry.
Needless to say, the young prince struggled with a bad-boy image as a young man, getting himself tangled up in all kinds of scenarios that were less than ideal - can we all recall THAT controversial fancy-dress costume, please?
The only difference between Harry's phase and mine? Photos of me leaving a night club at 4am (tipsy, no less), were not considered to be front page news, and thank God for that. Harry has grown up a lot, like we are all forced to do eventually, and is now a respectable adult, who steers clear from unsavoury headlines and general 'gobshitery'.
3. The royal in-laws
While not technically blue-blooded, Pippa Middleton's wedding was certainly princess-worthy.
We all want the dream wedding and inevitably will make demands when it comes to planning our nuptials – which is exactly what Pippa did. Did she ask her wedding guests to change in between the church and the party? Absolutely, and why the hell not. Anything goes when you're the bride.
Despite the fact that it was a regal affair, the wedding was just like any other. The best man's speech was filled with innuendos and the guests all partied until 4am – our kind of party.
4. Kate is every mum
Kate, The Duchess of Cambridge, has been criticised in the media constantly, with people claiming that she's not a hands-on mum because she's surrounded by nannies and servants.
Well, we reckon Kate is living her life like all mums out there, as best she can anyway – doing her own grocery shopping, which we seriously respect – as its one of the WORST jobs ever. She frequently takes George and Charlotte on group play-dates and let's be honest, imagine parenting your children in the public eye constantly. Sweat is forming on my upper lip as we speak!
Kate is also FAR from perfect when it comes to her image. Yes, she has become somewhat of a style icon – but her journey has not been without error.
The royal mum-of-two has become known for her "Marilyn Moments," where nature has gotten the better of her flowing dresses and skirts – resulting in a few unsavoury paparazzi shots.
She's also has a very interesting style past, with so many cringe-worthy outfits from her youth – most noteworthy being that infamous sheer dress she rocked during a fashion show back in 2002.
See, just like us!
5. The Queen
Even the Queen has had some slip ups on camera, proving that while she is the boss, she's also a human being. When Queen Elizabeth gets an itch in her nose, you best believe she's going to scratch it, as we all would – photographers be damned.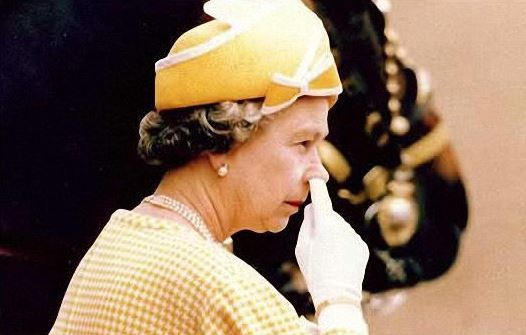 Listen, I'm not trying to convince anyone that the royal family have normal, everyday lives – because they absolutely do not.
However, at the end of the day, they are parents, teenagers, brides and human beings, who face a lot of the same things we do.
They just happen to live in a palace.