If you think you're already eating very little and you're still struggling to lose weight, there can be a number of reasons why, but the biggest one is not eating right. We've selected our favourite high protein, low carb dinners that are tasty, and will make a difference if you're looking to get healthy, whether that's maintaining a healthy weight, or hoping to shed a few pounds.
Protein Packed Chilli Con Turkey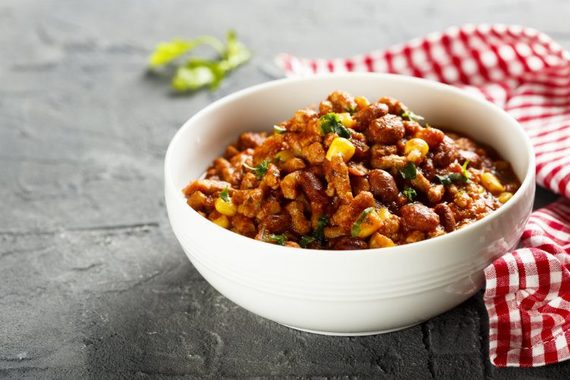 This is extremely filling with the inclusion of extra vegetables and the kidney beans so you shouldn't need rice with it. Serves 4.
Ingredients
480g turkey mince
1 tin of chopped tomatoes (no added sugar)
1 medium yellow onion
1 courgette
60g sweetcorn
120g tinned red kidney beans
1 bulb of garlic
1 packet of dry chilli spice mix seasoning
Coriander leaves to garnish
Method
Start by dicing your onion and courgette, add to a pan on a medium heat that has been sprayed with 1 cal spray. As the onion starts to soften and the courgette cooks add in 1 bulb of minced garlic.
Add in your turkey mince and continue to stir frequently.
Once the turkey has turned from pink to white, sprinkle over the packed of spice mix and brown.
Pour over the tin of chopped tomatoes.
Reduce the heat and leave to simmer for ten minutes.
Add in your rinsed kidney beans and the sweetcorn and cook for a further ten minutes before serving.
Saucy Salmon with Mango Salsa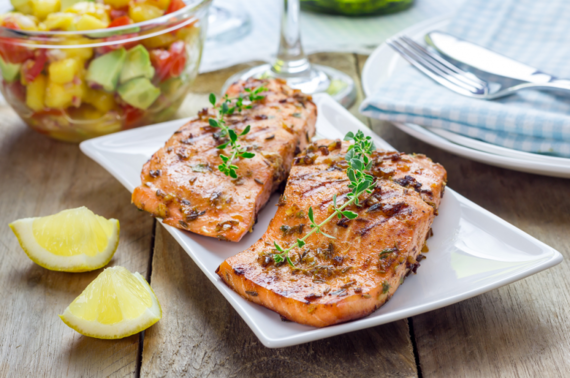 Salmon is rich in the essential fatty acids we need that keep our skin, hair and nails glowing and our brains ticking. In addition, Omega-3 fatty acids have been shown to help reduce inflammation, get you sleeping better and can even help lower blood pressure. Take advantage of mangos, avocados and tomatoes being in season and tasting better, work them into this delicious salsa that makes the perfect summer accompaniment to any meal, be it chicken or steak or in this instance saucy salmon.
Ingredients
For the Salmon
360g of salmon fillets
Marinade
2 scallions, roughly chopped
40g cilantro, roughly chopped
2 garlic cloves, minced
1 tsp lime zest
juice of one lime
1 tbsp dark soy sauce
½ tsp stevia
For the Mango Salsa
100g cherry tomatoes
Fruit from 1 large mango, cubed
100g of avocado flesh, cubed
1 red pepper, diced
1 small red onion, diced
Juice from 1 lemon
1 small red chilli, deseeded and finely sliced
1 tbsp balsamic vinegar
1 tbsp olive oil
Method
In a bowl mix together all of the ingredients for the salmon marinade.
Place the salmon fillets in a bowl or Pyrex dish and score the fish lightly.
Cover the fillets with the marinade and seal the bowl with cling film, leave to marinade for at least 30 minutes.
After the 30 minutes or more, wrap the salmon in tin foil and place into a preheated oven at 180'c. Cook for 20-25 minutes checking the salmon has cooked through by gently breaking apart the flesh with a fork. It should have turned pale-pink throughout.
While the salmon cooks, mix together your salsa by simply combining all ingredients in a bowl.
Serve alongside your salmon for a fresh and tasty summer meal!
High protein low carb Lasagne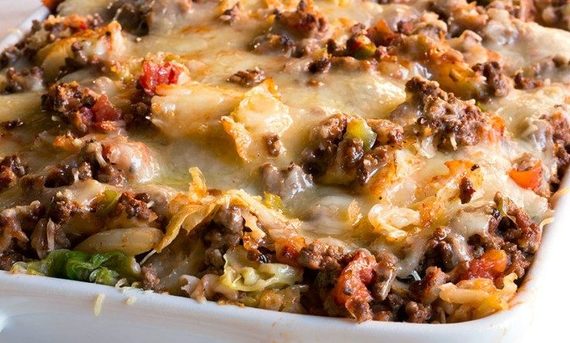 All the great taste of lasagne but none of the carbs! This high protein recipe for low carb lasagne will leave you feeling full but not bloated as you might do with regular lasagne. And while it is a healthy take on lasagne, it offers the satisfaction you would traditionally expect from this comfort food.
https://motivation.ie/healthy-diet/high-protein-low-carb-lasagne/
Ingredients
16 oz Lean Hamburger Beef
8 oz 1% cottage cheese
½ cup green onions, chopped
1 cup green peppers, chopped finely
2 cup tomatoes, cubed
3 cup spinach
3 oz mozzarella cheese
2 garlic cloves, minced
Pepper
Cayenne pepper
Method:
Brown beef in frying pan and drain. Remove from heat and add tomatoes, onions and green pepper. Season meat mixture with garlic, pepper and cayenne (you might consider adding; oregano, Italian seasoning, etc).
Layer spinach, cottage cheese and meat mixture in a 9 x 13 dish (1/2 meat mixture, spinach, cottage cheese, 1/2 meat mixture). Top with grated mozzarella cheese.
Bake at 400 degrees for 1 hour.
Serves 6
Chicken Tray Bake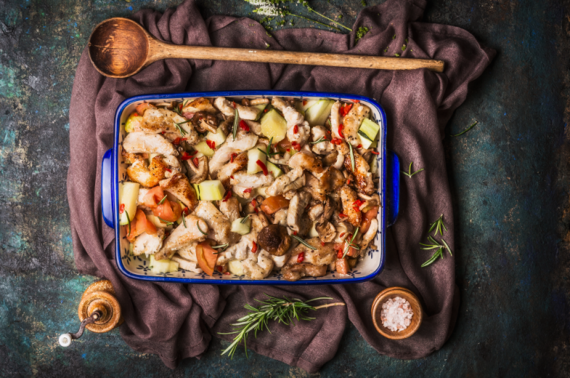 This is a really easy recipe to prepare. Use a casserole dish if you prefer. You can use vegetables of your choice for this recipe. Serves 4
Ingredients
400 g chicken breast, chopped
1 tbsp olive oil
1 tsp honey
1 tsp smoked paprika
1 red pepper, chopped into chunks
1 green pepper, chopped into chunks
200g cherry tomatoes
3 cloves of garlic, chopped
2 tbsp balsamic vinegar
2 tsp oregano
½ tsp salt
1 red onion, chopped
200g sweet potato, chopped into chunks
1 courgette chopped into chunks
60g low fat feta cubed
Lemon slices for garnish
Directions
Preheat the oven to 180'C.
In a bowl, combine the olive oil, balsamic vinegar, paprika, oregano, garlic, salt and honey.
Place the vegetables and chicken on a baking tray.
Pour the sauce over the vegetables and chicken, mix through and place the baking tray / casserole dish into the oven and roast for 25 minutes.
Remove from the oven and add scatter the cheese and lemon slices over the tray and place back into the oven and roast for a further 10 minutes.
Serve and enjoy!
Reducing the carbs in your diet is a no brainer - but so often it can lead to major hunger which is why you have to balane it out with high protein meals.