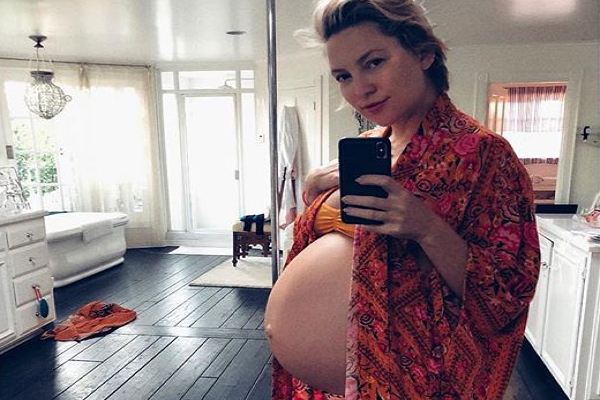 Kate Hudson is ready to pop. The expecting mother is due to have her baby any day now, and she cannot wait to finally give birth.
In the constant uncomfortable pain that comes along with the end stages of pregnancy, all the mum can focus on is trying to go into labour. "I can't walk, I can't speak," she described her body's state.
While the Bride Wars star has enjoyed the joys of expecting and nurturing her little one, she is ready for it all to be over with, so she can finally hold her little girl in her arms...
And savour the occasional cocktail after a long and sober ten months.
On her Instagram story, the gorgeous actress raved about her friend Reese Witherspoon's new book Whiskey in a Teacup, joking about the recipe's potential effects on her pregnancy.
She lamented over Reese's mint juniper recipe and whiskey drinks. "I figure a little shot of whiskey can put me into labour," the actress joked.
So, to distract the heavily pregnant mum, her friends and family threw her a beautiful baby shower, and Kate looked stunning at it.
She was all smiles in an ornate flower crown and a delicate, white lace dress that hugged her sizeable baby bump.
"Grateful for these beauties throwing me the sweetest celebration for baby girl yesterday," the mum gushed.
Her good friend Jennifer Meyer said: "Today, celebrating our baby girl who's having a baby girl. We love you, Kate."
The shower featured a stunning wall of white and pink flowers that made the perfect background for this photo, showing Kate laughing at the front of a hilarious baby bump train.
Her boyfriend Danny Fujikawa is rocking summer shorts and a wide-brimmed hat, grinning as he wraps his arms around his partner's growing tummy.
"So much love and joy today celebrating our girl! We love you already baby Fujikawa," Kate's dear friend Allison raved.
The glowing mum and her family are over the moon for her little girl to arrive.
It has been seven years since she had her youngest son Bingham. The mum shared her gruelling labour experience on The Ellen DeGeneres show, revealing her mum's unconventional support with an amusing story.
We wish Kate all the best and hope she gets to meet her baby girl soon!