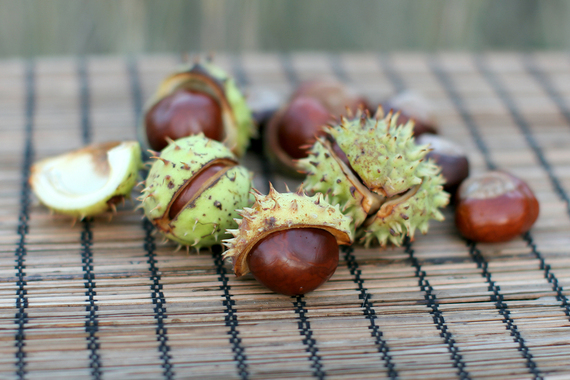 If you are anywhere in the vicinity of a horse chestnut tree, you might have noticed a few conkers adorning your garden. Rather than simply walking past or standing on them, send your little one out to collect them and spend the day having fun with any of these great games and crafts.
Conkers
This is a traditional game that has been around for years. To play, simply put a hole in the conker to the other side, and thread a piece of string through. Secure with a knot at one end. This is a two player game so you will need to prepare two conkers. Each player gets a turn at hitting the other player's conker - the one who manage to spilt their opponent's conker wins.
Conker and spoon race
Save your eggs for dinner time and use conkers instead. Just like an egg and spoon race, give each participant a spoon and a conker. Line them up at one end of the track and blow the whistle. The first one to the finish line with their horse chestnut on their spoon wins. Extra points if the runner doesn't drop their conker once.
Pencil topper
This is an unusual use for a conker but it's still fun. Drill a hole through one end of the horse chestnut making sure it is big enough to fit a pencil in but small enough so that it sits tightly. Make sure you don't go the whole way through. Give your little one plenty of art supplies, like markers, fabric and glue and let them decorate their pencil topper any way they like.
Marbles
Marbles is a great game that will keep the kids entertained for hours, but for this version you need to use a number of horse chestnuts. It is unlikely you will be able to find any in a complete circular shape, but try to choose ones that are as smooth and as round as possible. Make a circle on the ground using string or chalk and place a number of marbles in the centre in the shape of an X. Line your kids up about 10 feet behind the circle and give each a shooter another conker. The player who hits the most conkers out of the circle is the winner.