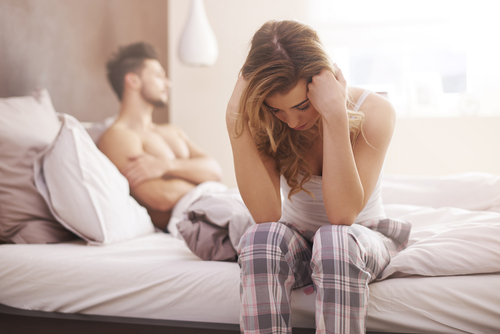 Whether it was due to relationship problems, personal reasons or even medical issues, it can be tough getting back under the covers with your other half when you've had a bit of a break from intimacy.
For many women, they can be filled with anxiety, insecurity and overwhelming feelings which can make the process even more frightening and less appealing.
If you are a little anxious, have a read of the following tips:
1. Start slow
You don't need to get straight into bed as soon as you can - start off slow and steady. Hats off if you are raring to go, but if you are feeling anxious try cuddling and kissing instead.
2. Remember the good old days
There is more to intimacy than having sex, so try to get to know your other half again. Reminisce about times gone past, about places you used to visit or even friends you both used to know. This can help bring you closer together and feel more ready for the next step.
3. Talk to your partner
Be open and honest with your other half so that you are both on the same wavelength. There is no point telling your partner that you are ready if you still have doubts or are worried about something in particular.
4. Boost your confidence
Confidence in yourself is key to confidence in the bedroom. It can be a little nervy if you haven't been intimate in awhile and your self-esteem can be quite low. So rather than thinking you have to buy something sexy, wear clothes that you are comfortable in, stick with acts that you like and avoid trying anything new yet, for now anyway!