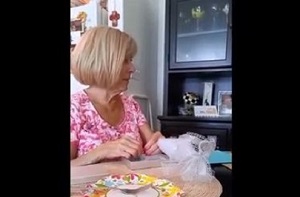 We have seen some hilarious reactions to baby news in recent times, and we can see why this woman is making headlines around the world.
The internet has fallen in love with a grandmother over her amazing reaction to finding out that her son and daughter-in-law are expecting a baby.
Uploaded by YouTube user M.Whigham, he explains how he and his wife presented his mother with a box containing blue and pink beaded bracelets as well as a charm reading '#1 Grandma'.
As the woman is already grandmother to a little boy and a little girl, she presumed that the bracelets and charm referred to these two grandchildren – but she was in for a major surprise!
When she is told that she can choose a bracelet to attach the charm to 'after they find out the sex', she finally cops on to what's happening – and her reaction could not be better.
Fast-forward to the hilarious moment at 0:56.