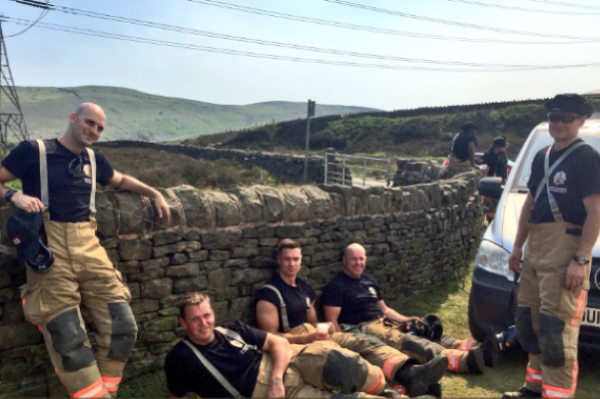 Greater Manchester Police have declared a major incident as fires rage on for a fourth day.
Multiple blazes are stretching an area of six km on moorlands and have led to more than 30 homes being evacuated.
The army is on standby to offer assistance to manage the outbreak, which commenced on Sunday and has been raging on as a heatwave has hit the country.
Follow our @gmpolice colleagues for further updates regarding the #moorlandfire in Tameside. https://t.co/jXhgvqkY8k

— Manchester Fire (@manchesterfire) June 26, 2018
Residents of 34 homes evacuated are in the Carrbrook area in Stalybridge and a number of schools have been forced to close.
Firefighters have been tackling flames on Saddleworth Moor throughout the night.
The Greater Manchester Fire and Rescue Service also added in a statement this morning:
"At first light this morning, offensive firefighting on the moors has recommenced."
Assistant Chief Fire Officer Leon Parker is giving an update to the press on the Tameside moorland fire. We currently have a total of 10 fire engines on scene this morning with @DerbyshireFRS pic.twitter.com/tvh3oUUeA4

— Manchester Fire (@manchesterfire) June 27, 2018
Ten fire engines are attending the scene and additional support is being provided by Derbyshire units.
A helicopter dropped water onto the fire from above, while nine fire engines worked to get the blaze under control yesterday.
In light of the ongoing situation, Public Health England have released guidance for anyone who may come into contact with smoke from the fire.
"Smoke is an irritant and can make eyes and throats sore – wash your face with soap and water and keep hydrated by drinking water," the statement read.
Dawn over the moors has revealed what we're dealing with...

This morning's view from @gmpolice HQ

Our thoughts are with those affected and @manchesterfire who have worked bravely through the night.

It is going to be a long, hot, smoky day. #Staysafe out there#Moorefires pic.twitter.com/jXH2aATFfE

— G M Police (@gmpolice) June 27, 2018
As a safety precaution, electricity supplies have been switched off overnight for 250 properties in Saddleworth.
Electricity North West have now said that power has been restored to all of the properties.