BabyBoo Bibs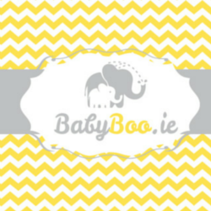 Join this group
BabyBoo.ie is a business based in Cork selling drool busting, cute looking, rash avoiding, dry clothing, double layered bandana bibs!
As any mum with a refluxy baby will tell you, when you have to put a bib on your baby constantly you get very jealous of other mums who can put cute outfits on their little ones and not have to drape a bib over the top. So BabyBoo.ie have created a range of bibs that not only soak up all the wetness but that looks cute too. They are also eczema friendly with a cotton layer that folds down over the fleece ensuring sensitive skin under the chin and behind the ears doesn't come into contact with it.
The bibs are 100% cotton front and 100% polyester (fleece) back, double layered with two poppers which are nickel free. They are suitable from 0-3 years so they can be worn by babies and toddlers.
We are looking for 10 mums who would like to try BabyBoo Bibs.
To be in with a chance of participating, please join the group, leave a comment and let us know if your child is a girl or a boy. In the event that we are oversubscribed., we will make our selection at random from qualifying entries.
Recruitment for this group is now closed.
If you would like early notification of new group trials, please visit this page and join the group where you will get early email notification once new groups are live.