'Grow Your Own' with Heinz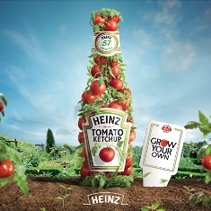 Join this group
Heinz has been developing its tomato ketchup expertise for over 130 years and its dedication to quality from 'field to plate' along with its secret recipe gives Heinz its truly unique great taste.
Heinz is launching a new 'Grow Your Own' campaign to share the extensive tomato growing experience that goes into producing its delicious and iconic Heinz Tomato Ketchup with families across Ireland.
The campaign is giving away tomato seeds, encouraging families to get together and grow their very own tomatoes. This is the first time in Ireland it has launched a gardening scheme, which aims to remind mums that Heinz Tomato Ketchup is grown not made.
At MummyPages we are working with Heinz to start our own Grow Your Own with Heinz Group. We want to set up 20 mums with everything they need to grow tomatoes and see how they get on. We want our mum's to share how they are getting on in the garden with their little ones and any tips that they might have picked up along the way. We will grow our tomatoes together from seed to fruit.
We are looking for 20 mums to take part in MummyPages Grow Your Own with Heinz group. If you are interested in taking part simply join this group and leave a comment below. If we are oversubscribed we will select 20 mums at random.
Recruitment for this group is now closed.
If you would like early notification of new group trials, please visit this page and join the group where you will get early email notification once new groups are live.