Mums Say - InnoTab toy from VTech review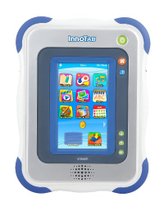 Join this group
Mums across Ireland can finally reclaim their ipads, e-books and MP3 players off their children. VTech has released the InnoTab, a new toy for kids that combines e-books, educational games, music, a photo viewer and an art studio all in one touch-screen, handheld tablet. This device is aimed at kids between the ages of 4 and 9.
The games, apps and e-reader are a great way of implementing learning into your child's games. This tablet allows children to develop core skills such as reading, spelling, math, logic and creativity. Applications include an art studio, e-reader, photo viewer and video player. It comes complete with a state-of-the art gravity sensor control for superior motion based gaming and also has built-in auto picture rotation.
As the InnoTab functions as an educational tool, parents can monitor their child's progress with a built-in tracker which can be downloaded using the VTech Learning Lodge Navigator – so if your child's reading is progressing more than their maths, you can download extra games and learning apps that will suit your child. To download more games and apps visit
www.vtechuk.com/download
Innotab is available in Argos, Amazon, Debenhams, Hamleys, Littlewoods, Smyths, and all other good toy retailers. The InnoTab console retails around €100 and software retails around €30.
We have five Innotabs that we would like mums (or rather their kiddies) to test out for us. To be part of this test, you must join this group and leave a comment below noting your interest to take part. Your child should be between the age of 4 and 9 to take part in this trial.
This product trial is now closed. Testers of the InnoTab are Julie-Anne McCarthy, Emma Heuston, Jennie O'Shea, Claire Murray and Liz Dunne-Byrne.
If you would like early notification of new group trials, please visit this page and join the group where you will get early email notification once new groups are live.