Mum's Say Trial: Aveeno Dermexa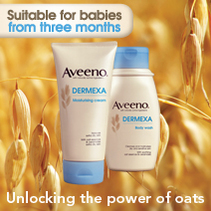 Join this group
Aveeno® DERMEXA is fragrance free, is gentle on skin and suitable for babies as young as 3 months. With its unique formula containing oat extracts and ceramides, it helps relieve the little itches from dry skin that can cause big upsets.
Irritated skin leads to cranky babies (and mums!) so try Aveeno® DERMEXA Soothing Emollient Wash for gentle cleansing and follow with Aveeno® DERMEXA Soothing Emollient Cream to help soothe irritated skin, and to restore and maintain the skin's natural barrier. A study completed on subjects with irritated, dry sensitive skin aged between 3 months and 5 years showed a dramatic improvement in dryness, redness and itching after using Aveeno® DERMEXA for just 4 weeks.
What's the secret? Oats have long been used to calm and cleanse skin and the people at Aveeno® are committed to advancing the science behind these little flakes of magic; Aveeno® scientists have recently discovered and isolated an extract of oats that further enhances the anti-irritant benefits of oatmeal and allows them to produce effective and calming products for those suffering with dry skin.
People of all shapes, sizes and ages can reap the benefits of Aveeno® DERMEXA; using the Aveeno® DERMEXA Soothing Emollient Wash and Aveeno® DERMEXA Soothing Emollient Cream daily as part of a skincare routine, can maintain a healthy skin barrier and relieve symptoms of dry skin and help prevent nasty flare ups.
We are looking for 60 Mums, who would like to trial AVEENO® DERMEXA on their babies aged between 3 months and 24 months who suffer from dry/very dry skin. To be in with a chance of participating in the AVEENO® DERMEXA trial, please join the group and leave a comment. The team in MummyPages.ie will be in touch to ensure you fit the profile.
In the event that we are oversubscribed, we will make our selection at random.
Recruitment for this group is now closed.
If you would like early notification of new group trials, please visit this page and join the group where you will get email notification once new groups are live.