Mums Say Trial: Avonmore Super Milk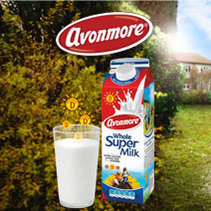 Join this group
As mums, we all want our children to get all of the vitamins and minerals they need to grow strong and healthy, but did you know that most Irish people don't get their recommended daily allowance of Vitamin D?
Getting the right amount of Vitamin D and calcium is essential for your growing family for healthy teeth and bones. Just one serving (250ml glass) of Avonmore Super Milk each day provides all the Vitamin D you and your family need to grow healthy and strong. As well as being important for bone health, Avonmore Super Milk helps your family build healthy muscles and a healthy immune system.
We are looking for 10 mums to try out Avonmore Super Milk with their family. To be in with a chance of participating, please join the group and leave a comment below. In the event that we are oversubscribed, we will make our selection at random from qualifying entries.
Recruitment for this group is now closed.
If you would like early notification of new group trials, please visit this page and join the group where you will get early email notification once new groups are live.