Mum's Say Trial: Buyers Club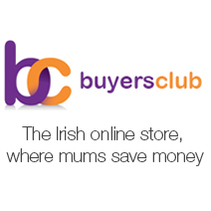 Join this group
BuyersClub.ie is Ireland's first social superstore. They offer international brands at insanely low prices and give Irish producers and manufacturers a platform from which to sell their goods. Shopping is easy, simply go online, browse the store, place your order and BuyersClub.ie will deliver your discounts directly to your door. It's that easy to secure savings from your own sitting room and save yourself the hassle of trawling from shop to shop.
BuyersClub.ie stock non-perishable and ambient food products along with a great range of toys, games, household items and fashion accessories. This is what separates them from big supermarkets. They want their members to support their local butchers, greengrocers and bakers and enjoy their experience with them. Their aim is to get you doing your fresh shop locally and use BuyersClub.ie to buy all your heavy items (washing powders, detergents etc.) so you don't have to worry about carrying that extra load home.
We are looking for 5 mums to try out the BuyersClub.ie experience as part of our Mum's Say trial.
If you would like to take part in this Mum's Say trial, simply join this group and leave a comment below noting your interest. In the case where we are over-subscribed, we will select 5 mums at random.
Recruitment for this group is now closed

.
If you would like early notification of new group trials, please visit this page and join the group where you will get email notification once new groups are live.