Mums Say Trial: Dairylea Dunkers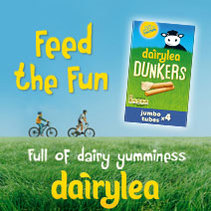 Join this group
We know, as mums, getting all the needed calcium into our little ones isn't always as easy it seems, so we have to get creative with our snacktime!
Stick them on your fingers, waggle them in the air and make up a moovellous song. Snack times, treat times, your time and their time become even more Dairylicious fun with Dunkers!
Dairylea dunkers are a fantastic source of calicum for the kids and is also a delicious snack, making it great
for the fridge and great for the lunchbox.
We are looking for 20 mums to trial the delicious Dairylea Dunkers with their little ones.
To be in with a chance of participating, please join the group to register your interest. In the event that we are oversubscribed, we will make our selection at random from qualifying entries.
Recruitment for this group is now closed.
If you would like early notification of new group trials, please visit this page and join the group where you will get early email notification once new groups are live.