Mum's Say Trial: Kooky Dough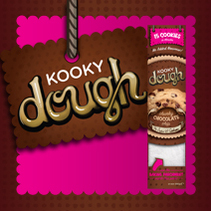 Join this group
Kooky Dough is the deliciously easy way to get baking with your kids. Best of all, you can rest assured you and your loved ones are being treated to the highest quality of 100% natural ingredients and made in Ireland.
Kooky Dough is available in two mouth-watering flavours: Chunky Chocolate Chip or Triple Chocolate Chip. Each box contains a 300g roll of raw cookie dough and a sheet of parchment paper which gives you a complete baking kit! Simply slice the dough, pop the pieces onto the paper provided and bake for a few minutes and your homemade cookies are ready! By following the lines on the packaging, you can bake up to 15 cookies from each roll. But the great thing is it's up to you what you want to do with the dough – have fun with it and make giant ones or mini ones to decorate with the kids! The gorgeous smell of home baking which fills your kitchen is just an added bonus!
Kooky Dough can be found in the fridge in shops (usually near the butter). These ready made baking kits give busy people all the rewards of baking without the fuss or mess. Stay tuned this spring for more exciting products from this range including homemade scone and chocolate muffin dough. Better get those gloves on!!
We are looking for 50 mums who would like to trial Chunky Chocolate Chip Kooky Dough. If you would like to try this product for our Mum's Say Trial, simply join this group and leave a comment below.
In the case where we are over-subscribed, we will select 50 mums at random.
Recruitment for this group is now closed.
If you would like early notification of new group trials, please visit this page and join the group where you will get early email notification once new groups are live.