Mums Say Trial: NUK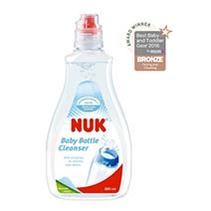 Join this group
For over 60 years, NUK
®
has been supporting parents. NUK wants to make mums' life easier.
NUK First Choice+ Bottles are clinically proven for combined feeding. The orthodontic teat mimics the shape of a mother's nipple during breastfeeding, its extra wide lip support simulates breastfeeding as closely as possible and encourages latch on which makes it easier to switch between breast and bottle feeding. The orthodontic, asymmetric shape of the teat is designed to perfectly fit baby's mouth, encouraging the healthy development of the cavity.
The NUK Teat also benefits from the improved NUK anti-colic air system which minimises infant colic. The special NUK shape and air system combine for as natural a feeding experience as possible.
However washing your baby's bottles with soapy water alone doesn't always remove ground in milk protein, pulp and juice residues, which can cause baby stomach upsets. NUK have come up with a solution and developed the Baby Bottle Cleanser specifically for cleaning all types of baby bottles, soothers and accessories.
We are looking for 10 Mums of babies aged up to 6 months to trial the NUK First Choice + Bottle and Baby Bottle Cleanser. If you would like to take part, please join the group and leave a comment below
to note your interest, along with your babies age. In the case that we are over-subscribed, we will select 10 mums at random.
Recruitment for this group is now closed.
If you would like early notification of new group trials, please visit this page and join the group where you will get early email notification once new groups are live.