NEW MUMS SAY TRIAL: ActiveIron® Pregnancy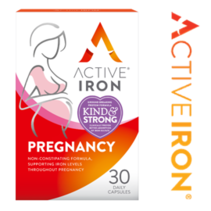 Join this group
ActiveIron® Pregnancy supports iron levels throughout pregnancy and is specially formulated to help prevent constipation. ActiveIron Pregnancy is clinically proven to have x2 better absorption than standard ferrous sulfate*. These easy to swallow iron capsules are free from artificial preservatives, sugars, gluten and yeast.
Did you know that There is an increased need for iron when pregnant, during this time the amount of blood in your body increases by 30-50% . This increases the requirement for iron and vitamins in your body as they are needed to make haemoglobin, which
carries oxygen to other cells in your body.
Unlike traditional iron formulations, ActiveIron's unique protein formulation modifies release and provides gut cell protection as well as increased absorption. ActiveIron Pregnancy is specially formulated to help prevent constipation.
ActiveIron Pregnancy's advanced protein formulation is non-constipating, and helps reduce irritation from iron. ActiveIron® Pregnancy is gentle enough to be taken on an empty stomach.
We are looking for 25 mums to take part in this trial with ActiveIron® Pregnancy - if you'd like to take part, just join the group and comment below. In the event that we are oversubscribed, we will make our selection at random.
(Note: Food supplements are not a substitute for a varied diet and a healthy lifestyle.)