New Mum's Say Trial: Batchelors Peas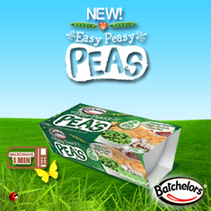 Join this group
Easy peasy lemon squeezy goes the saying and now it couldn't be more simple or convenient for you or your kids to enjoy the great taste of Batchelors Peas.
Peas are a wonderful natural source of protein which is vital for growing bodies and peas are a tasty way to ensure that you deliver on your recommended 5 a day servings of fruit & vegetables.
Batchelors Easy Peasy Peas come in 2 x 200g snack pots which are microwaveable in 1 minute. Batchelors Easy Peasy peas are gluten free and low in fat and kids (and adults!) love them. Serve with fish fingers and potatoes or as a side with a tasty casserole. The options are limitless! Being healthy just became "easy peasy".
Batchelors Easy Peasy Peas are available in all major supermarkets nationwide. Look out for them in the beans & pulses aisle!
We are looking for 20 mums who would like to try Batchelors Easy Peasy Peas. To be in with a chance of participating, please join the group and leave a comment. In the event that we are oversubscribed, we will make our selection at random from qualifying entries.
Recruitment for this group is now closed.
If you would like early notification of new group trials, please visit this page and join the group where you will get early email notification once new groups are live.