New Mums Say Trial: Carr's Oddities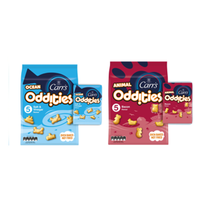 Join this group
Since its successful re-launch in 2014 Carr's Oddities has earned the love of young people of all ages and their parents. This year Oddities are getting a new modern look just in time for Back to School!
Kids love exploring the world around them and will just love these Oddities packs. Each flavour has its own theme: Salt & Vinegar – Ocean, Smoky Bacon – Animals. New funny shapes were developed specifically for each flavour, making each bite even more exciting! The playful and adventurous character of Oddities, make the snacks appealing for kids of all ages.
More importantly, Oddities are oven baked, not fried making them the ideal lunchbox filler.
We are looking for 10 mums to trial the Carr's Oddities range. If you would like to take part in this Mums Say Trial, simply join this group, leave a comment below and let us know what age your little ones are. In the case where we are over-subscribed, we will select 10 mums at random.
Recruitment for this group is now closed.
If you would like early notification of new group trials, please visit this page and join the group where you will get early email notification once new groups are live.