New Mum's Say Trial: Finish Power & Pure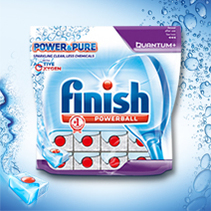 Join this group
A clean home gives you peace of mind and reassurance that you are providing a safe environment for your family.
New Finish Power & Pure is an innovative detergent that delivers the sparkling clean you would expect from Finish but with less chemicals. The unique formula powered by Active Oxygen blasts through grease and baked on food residue while giving you the comfort of knowing it contains fewer chemicals.
The Powerball washes away residue for an amazing shine, even in the hardest water conditions.
Advanced powder with oxygen based bleach agents seek out and clean tough stains like tea and coffee.
Salt and Rinse aid action rinses away residues and helps to eliminate spots and film, delivering a sparkling shine.
All this with no added phosphonates and less dyes and allergens.
We are looking for 30 mums who would like to try the new range of Finish Power & Pure. To be in with a chance of participating in this trial, please join the group and leave a comment. In the event that we are oversubscribed, we will make our selection at random from qualifying entries.
Recruitment for this group is now closed.
If you would like early notification of new group trials, please visit this page and join the group where you will get early email notification once new groups are live.