New Mum's Say Trial: Johnston Mooney & O'Brien Great Grains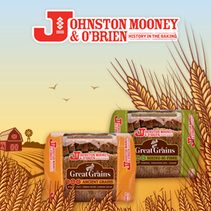 Join this group
Johnston Mooney & O'Brien are launching a new exciting healthy bread range called Great Grains, which will celebrate seeds, ancient grains and deliver strong benefits that aim to improve your lifestyle. These benefits include high fibre and a good source of Vitamin D and protein.
Ancient Grains: A special mix of heritage whole grains that have been planted and harvested the same way for thousands of years. The deliciously tasty blend of Spelt, Emmer and Einkorn is a healthy choice with a distinct flavour that is full of nutrients and high in fibre. It's the wholegrain wholesome way back to nature.
Seeded Hi-Fibre: A clever mix of grains that contains the nutritious goodness to keep you going throughout your busy day. The tasty blended mix of pumpkin, sunflower, linseed and wholesome oats is a great healthy and hearty choice. High in fibre, it has a gloriously deep rich flavour and a nutty texture
Recruitment for this group is now closed.
If you would like early notification of new group trials, please visit this page and join the group where you will get early email notification once new groups are live.