New Mum's Say Trial: Robert Roberts Coffee Capsules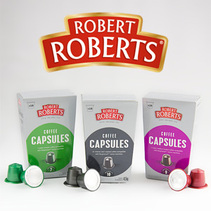 Join this group
Irish mums know that if there is one thing that gets you through a busy day, it's a nice cup of coffee. Robert Roberts is the much-loved Irish brand that now offers mums a great selection of Coffee Capsules compatible with all Nespresso® home machines.
Robert Roberts Nespresso® Compatible Coffee Capsules are delicious tasting fresh coffee which can be made quickly and without hassle.
Available in three intensities – 7, 9 and 10 – these Coffee Capsules, which are compatible with all Nespresso home machines, offer fantastic flavour as well as convenience.
Intensity 7 is a sweet smooth 100% Arabica coffee which is ideal to drink in the morning.
Intensity 9 is a nutty medium bodied coffee with unsweetened chocolate notes, and well balanced acidity.
Roasted in the Southern Italian style, Intensity 10 has an aroma with woody and liquorice hints. It makes a great espresso and also works well with milk.
The Coffee Capsules are available from Dunnes and all leading independents and have an RSP of €3.80 for a box of ten.
The Robert Roberts capsules are compatible with all Nespresso® home machines.
We are looking for 10 mums to try out Robert Roberts Coffee Capsules for our Mum's Say trial. If you would like to take part in the trial, simply join this group and leave a comment below noting your interest. In case where we are over subscribed, we will select 10 mums at random.
Recruitment for this group is now closed.
If you would like early notification of new group trials, please visit this page and join the group where you will get early email notification once new groups are live.