Sure Compressed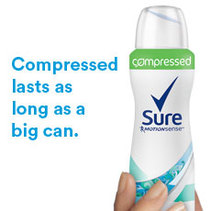 Join this group
Sure Compressed provides the same amount of protection in each spray, while using 50% less gas, resulting in a smaller, smarter can. When sprayed for the same amount of time as the big can, the 125mL size will last just as long. Plus, less packaging makes it a handy size for on the go and it is more environmentally friendly.
Why is Compressed great?
1. Lasts just as long as the big can when sprayed for the same amount of time, and Sure is so confident it will that there is even a Money Back Guarantee
2. Less gas results in a softer spray and saves on packaging so it is better for the environment and a handy size too
3. 9 million women have already chosen a Compressed antiperspirant*, try it for yourself
We are looking for 20 mums who currently use the Sure big size aerosols to trial Sure Compressed aerosols. To be in with a chance of participating, please join the group, leave a comment and let us know if you are currently using the Sure
big can
aerosols. In the event that we are oversubscribed., we will make our selection at random from qualifying entries.
Recruitment for this group is now closed.
If you would like early notification of new group trials, please visit this page and join the group where you will get early email notification once new groups are live.