Victoria Beckham has shared an adorable image of her eight-year-old daughter, captioning the image; 'Harper is in love'. It's not what you think, however.
The 45-year-old fashion designer melted her little girl's heart giving her a beautiful grey kitten to play with for the day, and the pair are clearly smitten.
Taking to her Instagram Stories, the former Spice Girl posed with the fluffy beauty, writing; "Kisses" on the post.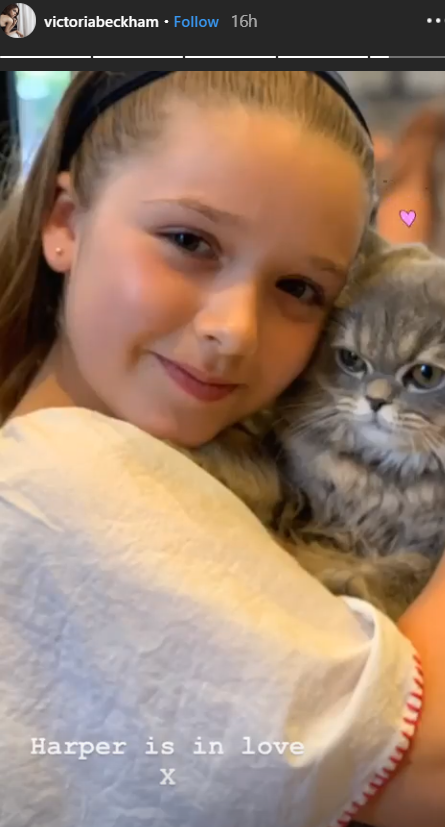 The mini fashionista looks absolutely besotted with the four-legged friend, holding the kitten close to her chest.
The post of Harper comes just days after the Beckhams celebrated their little girl's birthday. The kitten is believed to belong to a friend of the family, but Harper looks like she desperately wants to keep the lovely pet.
Harper has been spending lots of time with her mum, seeing as she's off school for the summer. The youngster accompanied her mum to a photoshoot for her Victoria Beckham Beauty range.
The family also enjoyed a meal out, with Harper's three big brothers in attendance to show support for her eighth birthday.
The restaurant even decorated their table with a mass of pink and white helium balloons on her behalf.
"Harper Seven's birthday dinner with her big brothers," Victoria wrote on her Instagram photo alongside a gorgeous image of her four children.
Her dad David wrote: "One last time before bedtime. Happy birthday Harper" on his own social media post, with a cute photo of his daughter at the dinner table.
The ex-England captain added: "What more can daddy say other than I love you so much little girl and please stop growing up. Happy birthday to my pretty lady. Your smile melts all our hearts."
Feature image: Instagram@davidbeckham