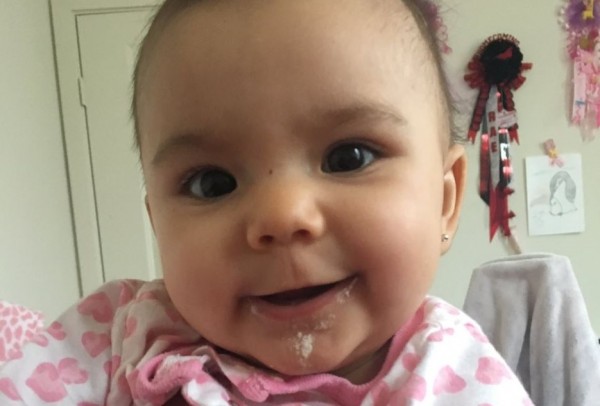 Life as a new mum is blissful: the little milestones, the cute bonding moments – the list of heart-warming moments is endless.
However, we're sure you'll agree with us when we say that there are some particularly 'sticky' moments. You know the ones we're talking about – when you wind up covered in wee, poo, spit-up, and other nasties!
This is all part and parcel of the motherhood experience, isn't it? And even when we've just experienced an 'explosive nappy', we have to look on the funny side and just laugh it off.
One woman who has left us all in hysterics with her take on life with a newborn, is Desirae Robles. The mum and her six-month-old daughter, Addelina, have become viral internet sensations this week – thanks to one laugh-out-loud split-photo.
Have a baby they said, it'll be fun they said pic.twitter.com/hEjdTrEcfR

— mama des(@desssirae_) May 27, 2017
Desirae managed to sum up motherhood in one simple Twitter post: on one side, little Addelina is seen smiling for the camera, with a little drop of spit-up on her chin; on the other, her mum smiles through an entire face full of spit-up!
"Have a baby, they said. It'll be fun, they said," she wrote, much to the amusement of the Twitter-verse.
The reactions from parents on the social media site made the post all the more entertaining, and it's clear that Desirae's experience is all too relatable.
"Girlllll, I understand," wrote one mum, sharing a similar photo of a nappy explosion on some blankets.
"Yep, I woke up to this," chimed in another, showing a close-up of yet another nappy-related incident!
The thread brings to mind fitness blogger Chontel Duncan's viral post from last year, which shed light on the messier side of motherhood.
In an Instagram post, she shared a photo of a shower to remember with her son Jeremiah, who wound up taking a poo on her arm.
"The joys of parenthood. Green Frappe coming through nicely. Hope this put a smile on all of your faces. Happy Friday, from Jeremiah," she wrote.
If anything sums up life as a mum to a newborn, then surely these photos qualify.
We're sure you have some laugh-out-loud stories of your own, mums – we would love to hear them!