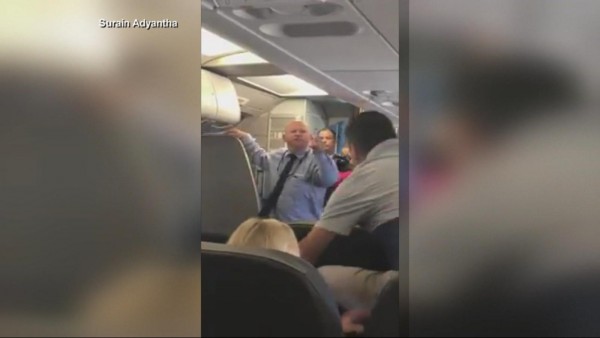 It seems like we can't stop hearing about incidents onboard US flights. American Airlines is in the headlines this week, after a flight attendant reportedly hit a woman with a stroller while she was holding her baby.
The incident occurred on Friday, on Flight 591 from California to Texas.
In a two-and-a-half minute video uploaded to Facebook, a woman is seen sobbing at the front of the flight while carrying a baby and pleading with an airline employee to return her stroller.

The attendant, whose name was not released by the airline, grabbed the stroller from the woman, who was one of her 15-month-old twins, a passenger who was nearby said.
"He jerked it away from her and almost hit the baby in the head," Olivia Morgan, the passenger who saw the episode unfold, told the New York Times.
Ms. Morgan said that after she complained about the woman's treatment, the attendant turned his anger on her.

"He yells at me with his finger in my face, 'You stay out of it!'" she said. "Full rage."
Surain Adyanthaya, the woman who posted the video on Facebook, wrote that the flight attendant had "violently" taken the stroller.
The video, which has now been viewed over six million times, begins after the stroller has been removed. It shows the mother standing toward the front of the plane and crying.
"Just give me back my stroller, please," she says, while holding one of her children in her arms.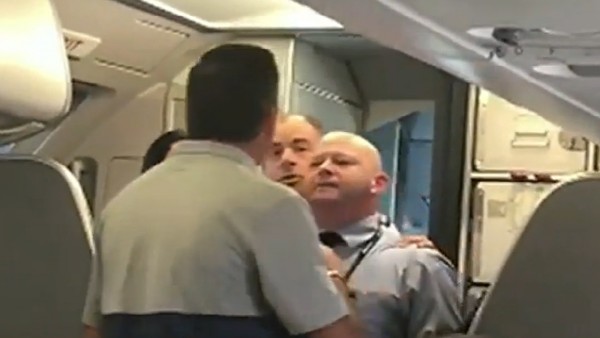 A man is then seen intervening and confronting the male flight attendant, saying: "You almost hurt a baby. You do that to me, and I'll knock you flat."
The pilot eventually had to step in from the cockpit to calm down the passengers before taking flight. But when the flight landed in Texas, the flight attendant in the video was suspended.

Tony Fierro is the man seen leaping from his seat and demanding to learn the attendant's name. Speaking for the first time since the scrap, he said: "A baby almost got hurt. That's what fired me up."

The woman and her family were escorted off the plane and put on a different flight, and luckily they were able to catch a connecting international flight. The airline said it had upgraded the family to first-class seats for the rest of their trip, and was investigating the episode.

This comes after a video went viral of a man being bloodily dragged from a United Airlines flight last month. David Dao suffered a broken nose and glasses after he refused to leave an overbooked flight to make room for flight attendants, and was forcibly removed by staff.