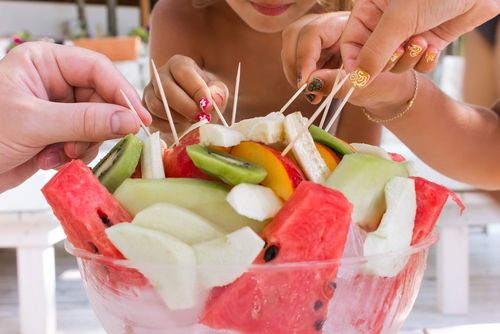 Encouraging your kids and teenagers to eat healthily is no simple task. Even the sight of broccoli can send some into a panic-fuelled frenzy, while many will turn their noses up at anything that isn't chips or pizza.
As parents, it always seems like a miracle if you feed your children something that is actually good for them that they like. If you struggle to get your children to eat foods with a high nutritional value, there are a great many tasty foods and snacks that will win over even the fussiest of eaters, providing them with a whole host of nutritional benefits.
Strawberry smoothie
This colourful and creamy delight is bursting with delicious five-a-day options and all the benefits of probiotics. In a blender, pour a handful of fresh or frozen strawberries, a fresh or frozen banana and one cup of low-fat yoghurt, in whatever flavour you fancy. Blend until smooth.
Popcorn
While the cinema varieties are laden with sugar and salt, heating up a packet of corn kernels and then adding spices to create flavour is a great healthy alternative to this popular snack. Popcorn has a very high antioxidant and fibre content.
Veggie crudites and dips
Kids love finger food, so chop up a small variety of vegetables, including cucumber, celery and red peppers for a colourful dipping selection to go with a portion of hummus. This is a great afternoon snack that combines several helpings of a five-a-day in one!
Baked sweet potato wedges
A healthy alternative to chips, baked sweet potato wedges are packed full of fibre and vitamin A and can be flavoured with herbs and spices to create an extra kick. Chop potatoes into slim wedges and cover with oil before baking. Leave the peel on to add to their crispiness and nutritional benefits.
Whole grain cereal
Low sugar, wholegrain cereals are a great start to the day and bursting full of nutritional value. Adding fresh fruit such as strawberries and blueberries livens up the bowl, and adds a natural sweetness. A handful of cereal as a snack can also make a great alternative to biscuits.