In 2010 our world changed and we were blessed with a beautiful baby boy whom we called Brian. Shortly after his birth we were told Brian was born with Down Syndrome and had AVSD, a congenital heart defect associated with patients born with Down Syndrome. We went with Brian to Our Lady's Hospital, Crumlin when he was just 9 days old. The staff at the hospital were amazing. Myself and my husband both work within the HSE and are acutely aware of what a difficult environment it can be to work in.
We were told that Brian would need to undergo heart surgery for his condition but prior to that our little boy had to put on a good deal of weight in order for him to be able to undergo the ordeal of surgery. We were assigned a cardiac liaison nurse who was in constant contact with us in the run up to the surgery and to ensure we were coping as well as we could.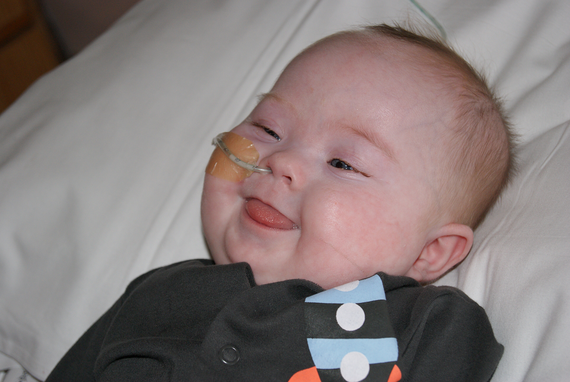 We were finally ready in August 2010 and headed to Crumlin. Once again the staff at the hospital were simply fabulous, taking such amazing care of Brian and also acting as great support to me and my husband. We spent six and half weeks in the hospital and every minute we were there I knew my baby was getting the best care imaginable and not only that the nurses all made sure I slept and ate! Being from Donegal we were so far away from home and they acted like our own family.
I did have to spend a lot of time there by myself as my husband had to go back to work in Donegal and also take care of and try to keep things as normal as possible for Brian's brothers and sisters. They were a pillar of support to me during this really difficult time. But our worst nightmare happened on the 2nd of November 2010 and our "wee man" passed away in Crumlin after being rushed up from Donegal.
Throughout it all the staff at the hospital once again took tremendous care of us and I have nothing but admiration and respect for them. For all the other parents going through what we went through, I know with all my heart that they will receive the most amazing care and dedication from every member of staff at Our Lady's Hospital, Crumlin.
In 2011 I ran my first Flora Women's Mini Marathon and I have great gang of girls who run with me every year. We wouldn't miss it for the world and to date we have raised €15,000 to help Fix Crumlin. I would urge everyone out there to get a gang together and walk, jog or run the Mini Marathon on behalf of the hospital as everything raised will make such a difference.