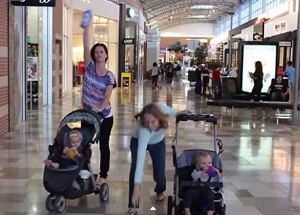 You might recall a video we recently posted which taught us all a valuable lesson in why it's not a good idea to judge other parents.
Now, another hilarious parody has emerged which juxtaposes 'two types of mums' – the super-careful, germ-hating mum, and the carefree mum.
While one mum can't even walk through the shopping centre without disinfecting the air around her and her child, the other mum enjoys letting her little one embrace the mess and dirt.
From fun in the playground to mealtimes, these two mums couldn't be more different, and you will no doubt be in hysterics at the hilarious anecdotes.
However, what we love about this video is that we recognise a little bit of ourselves in both of them, proving that there truly is no such thing as a 'perfect mum'.
Check out the amazing video from Story of this Life below.