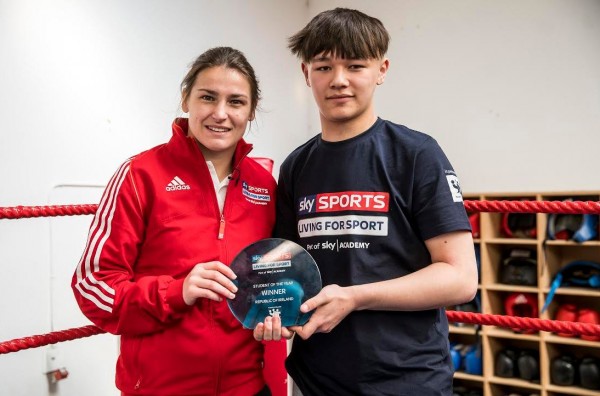 It is so easy to love Irish Olympian Katie Taylor with her gentle voice and strong right hook, so it is no surprise that these kids were left speechless when the star unexpectedly turned up during a boxing session.
But she wasn't there to share her boxing secrets, oh no. She was there to present St. Mary's College student, Patrick Fu, with the Sky Sports Living for Sport Student of the Year for Republic of Ireland award.
The Dundalk pupil actually thought he was filming a boxing masterclass with Sky Sports Boxing's Johnny Nelson and was shocked when Katie surprised him with the award.
Patrick was nominated to take part in the campaign because he was struggling with some aspects of school life, but during the project he went on a life-changing journey with his attendance improving and becoming fully engaged in class.
His confidence has grown and he now has goals and ambition, believing he can change and achieve his desires. He is now part of the Student Council, an achievement nobody would have thought possible a short time ago.
"Patrick's has shown incredible improvement since becoming involved in Sky Sports Living for Sport, it's really rewarding to see such progress. The projects run by St Mary's College are the perfect way to inspire students to sporting and academic success," Sky Academy Ambassador Katie Taylor said.
Well done, Patrick!
For further information on Sky Sports Living for Sport award winners or to sign up, click here.
SHARE to send your congratulations to the student.