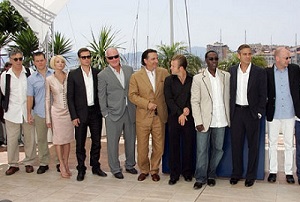 Since tying the knot last year, he has found himself at the centre of plenty of baby rumours, but Hollywood star George Clooney has silenced the reports for once and for all.
The Tomorrowland actor, who wed lawyer Amal Alamuddin in September of last year, has admitted that himself and his new wife have no intention of starting a family anytime soon.
After months of false pregnancy claims surrounding the couple, the 54-year-old decided to speak candidly during an interview with CBS today.
When talk turned to future plans and children, George admitted: "I don't really think about it. I mean, I've thought about it, I suppose, but it hasn't been high on my list."
He revealed that media scrutiny had undoubtedly increased since his nuptials in Rome last year, adding: "I've been asked about kids a lot lately because I've gotten married and I'm doing a movie with kids in it."
Giving an insight into his family life, the actor went to pay tribute to his sister Nina and her two children, with whom he admitted he is "really close" with.
Given how a number of media outlets incorrectly predicted that Amal and George were expecting, perhaps the actor's latest admissions will give them a bit of a break from the scrutiny!