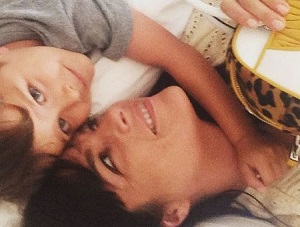 We all know the result of giving a small child a lipstick and full creative licence to do whatever they want – chaos!
Actress Selma Blair learned this the hard way this week, when she allowed her mischievous four-year-old son, Arthur, to give her an impromptu 'makeover'.
Taking to Instagram to share the hilarious finished product, the Cruel Intentions star wrote: "I have never felt more beautiful. Or loved."
It seems that the 43-year-old wasn't too bothered by Arthur's, ahem, work of art however, as she went on to add: "There isn't one moment his little hands have touched, that I have not thanked God for this time. He wanted to make me look scary…"
It looks like little Arthur was getting some practice in for Halloween! How many of us have been there?
Selma has never held back when it comes to the topic of motherhood, and she previously described it as "one of the most horrendous things that's ever happened to me, as well as the most amazing".
Selma welcomed little Arthur Saint back in 2011, with her then-partner Jason Bleick. The pair went on to split just over a year later.