When it comes to looking at interiors trends for the home, Dulux Paints is renowned as the leader in colour forecasting with new edgy trends revealed each year and season. The latest colours for 2013 is 'Home Factory', bringing out the industrious style of the seasons' colour palette.
'Home Factory' is a look which brings creativity to the fore in the home. It's all about home manufacturing, creating things in the home, manufacturing on a tiny and personal scale. According to Louise Smith, Dulux Colour Designer, 'The style of the interior should be a reflection of how you occupy the space. Bold dark statement wall colours such as Dulux Indigo Night, or Dulux Moon Waves 1 fill the space, contrasting with elements against the surface that pop and snap against it. Awe inspiring soft teals go brilliantly with richer petrol like blues and all types of natural greens whether yellow or blue toned.'
This new trend encourages us to re-think our living space and re-purpose everyday items to make a space more engaging and interesting. Reconnecting with what makes you happy will result in a unique style that is centred around your personality.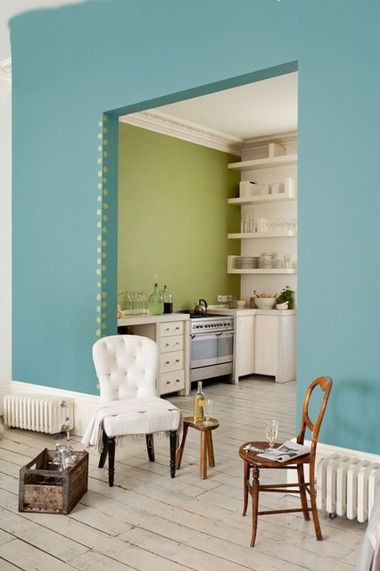 Louise Smith, Dulux Colour Designer guides us "If we want to build a better world, we are going to have to go back to basics; and that's exactly what an increasing number of optimistic and creative minds are doing. There's currently a huge trend for building, making or cooking your own products, food and drink, in order to live a happier more authentic life. This isn't about being a hippy, but rather connecting with honest materials in order to be a little more self-reliant."
She continues, 'Paint floors throughout the house and don't worry about the wear and tear underfoot – it's industrious! Signs of productivity are a beautiful by-product of the Home Factory living space' whether it's a displayed sewing machine, kitchen herb garden, a home-made pasta machine in the kitchen or weighting scales as nods towards your creative inner."
To see the latest dulux trends, draw inspiration and decide on colour, log onto
www.dulux.ie
.
All Dulux ready mix colour emulsion is now 33% off. So whether it's a funky pink you want for your kids bedroom or a washable matt paint for those sticky fingers in the kitchen, you will find the colour and finish you need across 160 specially selected ready mix colours. Find in participating stores today. T&Cs apply. Offer ends 05/04/2013
March 2013