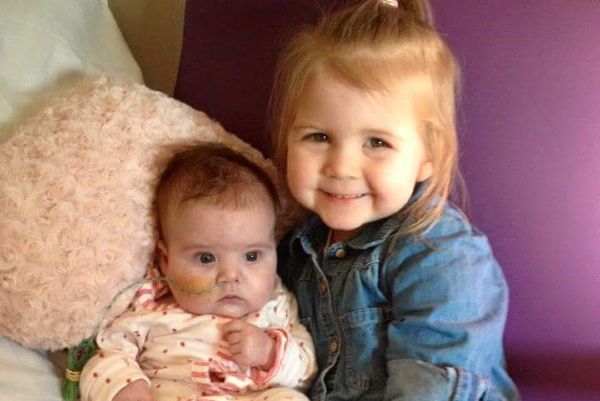 Ellen Macken Moloney, the mother of a two-and-a-half-year-old with five cardiac conditions, and a five-year-old with leukaemia, has called for public investment into medical research. Ellen, from Longford, has praised the staff at CMRF Crumlin for supporting her family through difficult times, and has stressed that without medical research, survival rates and treatments won't improve for some of Ireland's sickest children.

"Poppy, my youngest, was rushed to Crumlin when she was nine days old." Ellen said. "We learned that she had five heart defects and a lack of oxygen going to her brain. Within a couple of days she had her first open heart surgery. We were so terrified. Afterwards, she showed some progress as she started moving her arms and her legs. It was the biggest relief in the world."
The mum of two went into detail about what the family and her two daughters have bravely gone through as a result of the children being so ill.
"After about five months Poppy had her second open heart surgery. She spent three weeks in ICU and got back on the ward on New Year's Day. It was such a long surgery on her body. She was in theatre for 10 hours. But she got stronger and continued to do better. After that she did physio and occupational therapy at home. She then had her third open heart surgery the following May. Since the third surgery she's thrived, put on weight and is doing fantastically. She will need more open heart surgery and will probably have surgery this year. But she's two and a half now, doing really well and she's such a strong little girl."
Ellen said that when the family settled back into a routine, her eldest daughter Ava Lilly, who is five, suddenly became unwell; she was tired and out of sorts with a pain in her arm. Ellen said she 'had an instinct' that something was wrong, which unfortunately was proved right.
They arrived in Crumlin Hospital and were told Ava had cancer (leukaemia) and she got a bed on St John's Ward. Ava started her treatment in Crumlin when she was four years old.

"The first six months were the most intense." Ellen continued. "When she came home, we got into a routine again but now we had two sick kids. Two very different conditions, but both patients at Crumlin."
She explained that her incredibly strong daughter, started school in September 2017, goes in on the days she's feeling up to it because she's still on treatment. "She goes to clinic every four weeks and her treatment will last about two and a half years."
Of course, with the good days, come the bad days but the proud mum said she was incredibly proud of both her resilient daughters.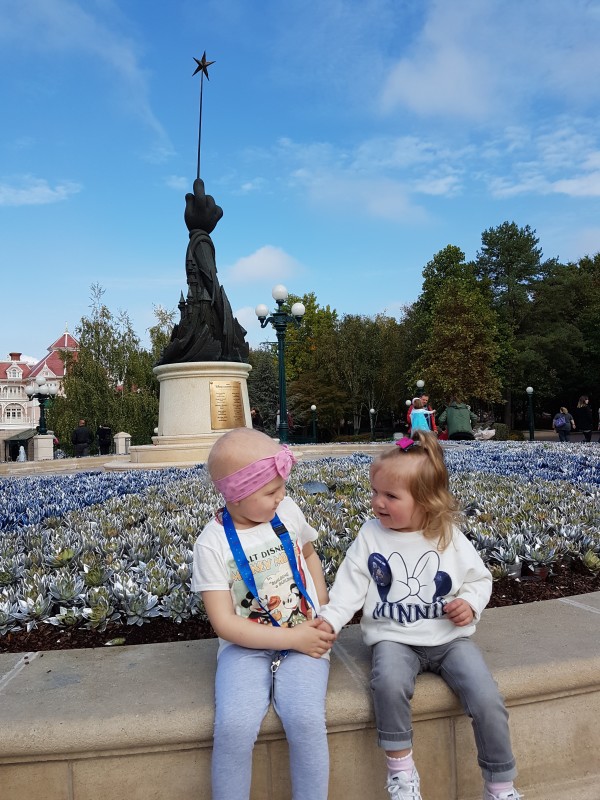 "It doesn't faze her at all. She's so placid and just gets on with it. Kids just don't let things get to them. She did have her bad days. When she found out she would lose her hair, she was very upset. But she got on with it and we got her so many bows and headbands. Our routine is entirely different now. "
Ellen said Poppy is in crèche now and when they don't have hospital appointments the girls still go to school and try to keep a normal routine.

"We're all very positive," Ellen said. "Ava actually loves going to clinic in Crumlin. Everyone is so good to her in the hospital that she enjoys her visits. Poppy is more feisty. We have so much love for Crumlin because without the treatment and care the girls received, they wouldn't be doing as well as they are."

Ellen said that she is keen to highlight the importance of donating to medical research because she's seen first hand how sick children are so in need of the treatments that come from that research. "Research is so important, and the more we invest in research, the more answers we can find, and the more children we can cure. Research is hope for any sick child. We need research to try and find a cure for childhood cancer, and for children with congenital heart defects - research will improve the survival rates and improve treatments and surgery."