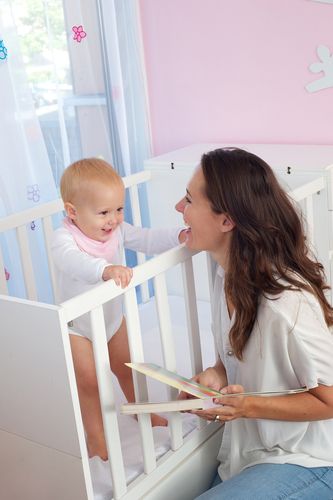 You can use a cot from the day your little one is born, but some parents feel a newborn can look a little lost in a big cot. Other options for the first couple of months include a Moses basket or carrycot. However once you start using a cot, it's important to be aware of necessary safety measures.
Here are some tips for cot safety.
Regulations for cots have changed over the last number of years, so if you're using a second-hand cot be sure it meets new safety measures. The distance between each of the bars should be no less than one inch and no more than two inches to prevent your baby's head getting caught between the bars.
Ensure the mattress fits snugly into the cot.
Avoid cots with corner-post extensions and decorative cut outs in either the head or foot board that could trap your baby's limbs.
Position the cot away from heaters, windows, lamps and furniture that could be grabbed at or used to climb out of the cot.
For a safe sleep, your baby should have a firm, flat surface. Don't put a pillow in the cot.
Once your little one is able to push themselves up on their hands and knees, you should remove the mobile and any other toys that hang across the cot.
When your child is able to pull themselves up, put the mattress in the lowest position to prevent baby from climbing out.
Once the cot mattress is at its lowest height and the top rail sits below your baby's chest, it's time to get a bed ready for them.