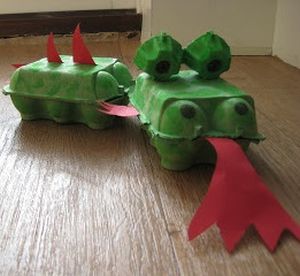 What you'll need:
3 egg cartons
Paint
Coloured card
Wool
PVA glue
Sellotape
Black marker
Instructions:
Paint two of the egg cartons whichever colour you'd like. Cut two egg cups from the third carton and paint (same colour or different – let your child be as creative as they want). Allow to dry.
Cut out a dragon tongue from the coloured card as well as some spikes for your dragon's back.
Once the two whole egg cartons have dried, attach them together by taping a small length of wool into the inside of each carton.
Position the tongue at the front of one of your egg cartons – this will be your dragon's face and the other will be the body. Secure in place with a little tape.
Close both cartons and seal with PVA glue or tape. Glue/tape the coloured spikes onto the dragon's body.
Draw two black dots above your dragons tongue to create his nostrils.
Draw a dot on each of the single egg cups to create the eyes. Glue/tape these onto your dragon's head.
Have lots of fun!