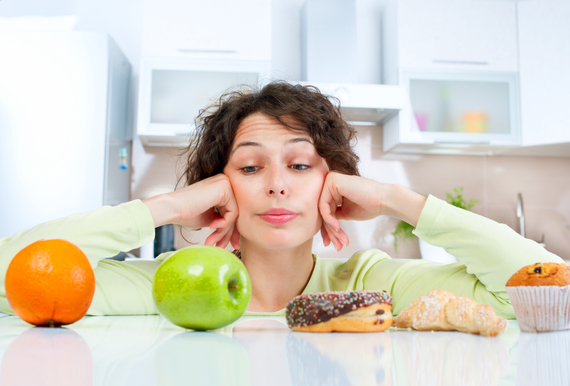 With the length of our To Do lists, we mums are always looking for shortcuts and hacks when it comes to things in our lives. Keeping our weight down and staying healthy are definitely things we often sacrifice in favour of helping with homework, doing laundry or you know, sleeping.
Time just isn't on our side and we'll admit we're guilty of reading about every weight loss 'miracle' out there in the hopes we can find a quick fix. But the truth is there's no miracle fix when it comes to weight loss; however, there is a simple solution.
Clean eating has been a popular trend over the last year with many celebs swearing by its principles. But, like many celebrity endorsed diets, the methods they promote take things to the extreme with raw-only foods, expensive ingredients and tedious meals.
Not very practical for a mum dealing with a crying baby and a mischievous toddler swinging out of her leg…
With a generous dollop of reality, clean eating can have an amazing effect on your health and by extension, your weight. The basic principles are that you eat food in as natural a state as possible and make sure your meals are balanced – in other words,
don't forget the protein
! This doesn't mean you can only eat things you grow in your own back garden – it just means you should avoid extensively processed foods.
By making a few simple changes that won't siphon your precious time, you'll find your body rejuvenated and buzzing with all the healthy nutrients it's suddenly getting. Through this, you'll be kick-starting your metabolism and helping your body to shed that unhealthy fat you were building up.
So how can you make your diet 'clean' without making your life more complicated?
Cut out heavily processed foods
Microwavable meals, junk food and cheap jars of sauce are all packed with sugar, salt, chemicals and preservatives to improve flavour and extend their shelf life. Nothing about this is good for your body and can be easily replaced with a healthier alternative, such as a homemade sauce and some frozen veg (no chopping or peeling required!)
Be sure each meal is balanced
This simply means including protein, carbohydrates and fats in every meal. More often than not, people tend to miss out on protein and instead eat carb-heavy meals, which is a huge dietary setback. Proteins are the building blocks of the body and the key to strong muscles, an efficient metabolism and a healthy immune system. Including protein doesn't need to be a big effort – simply mix some
Greene Farm Roast Chicken Breast
into the next pasta sauce you make or add
Greene Farm Turkey Breas
t to a quick salad.

Say no to fat, salt, and sugar
Once you've cut out processed foods, this one is actually quite easy to achieve as natural foods tend to be low in these ingredients. When frying, opt for a healthy oil like coconut if needed and if you want to sweeten your tea, use honey or maple syrup.
And definitely say no to additives
Too many products are packed with chemicals and additives these days, which is why we like using Greene Farm poultry products in our family's sandwiches and salads. Not only are they gluten-free and made from all natural ingredients, they are also
free from artificial flavours and preservatives
.
Unrefined is good
Celebs may be able to live on vegetables, but it's a different story for us mere mortals. No one expects you to cut out all breads, pastas, etc – just opt for the healthier grains, like brown rice and quinoa (which also gives you a nice protein boost). Beans are also a great way to bulk up a meal.
You are what you drink
Carbonated drinks and fancy coffees are calorie powerhouses that are typically high in sugar. Opt for tea, water or milk instead when you want to hydrate.
Get active
A clean lifestyle isn't just about what you eat. Not only will regular exercise improve your mood and strengthen your muscles, it can also boost your metabolism, helping you to burn more calories when active and also while stationary! But we get it – time is scarce. If you're finding it hard to fit a trip to the gym, make a few small adjustments instead, like walking the 10 minutes to the shop instead of hopping in the car or taking the stairs rather than the elevator.