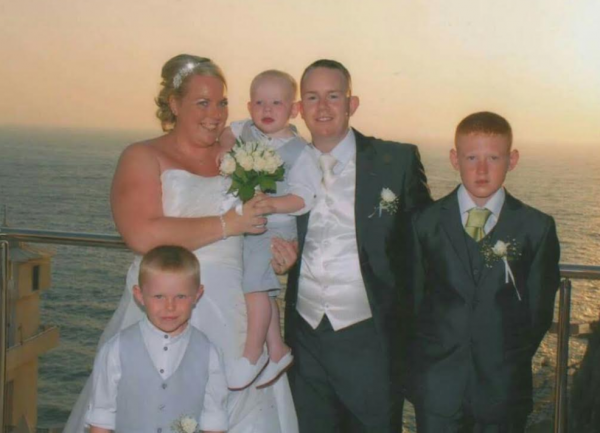 Keelan was sports mad - football, boxing, he loved it all. His mum, Leanne said her son was fit and healthy right up until the day he passed away, two years ago this Friday.
He was just 15 years old when he died from group B meningococcal meningitis.
This is their story:
"Keelan got up as usual for football on a Sunday morning. It was lashing rain and when he got home he was soaked through. We decided to go to Dublin to get him new football boots as his were ruined.

On the way home on the bus, he was complaining of a headache but I put it down to the motion of the bus. He headed out with his friends later and went to bed. In the middle of the night, his little brother woke up with a toothache. Keelen was still complaining of a headache so I gave him some tablets and he went back to bed. The next day I told him to stay in bed and on the way home from dropping the other children to school I stopped at the pharmacy. They said it sounded like the flu or from playing in the rain. He got up and had his breakfast but went back to bed because his head was still bad. When I went out for a walk with my cousin's baby, he started sending me message after message saying 'My head is so bad'. I rushed home and brought him straight to the doctor.
While we were waiting to be seen, he threw up. The doctor said she wasn't happy with the severity of his headache, so she advised us to go to the hospital. On the way, I could see him looking more and more yellow. My dad was driving and I could tell he was as petrified as I was. When we pulled up at the A and E, Keelan didn't have a clue what was going on. I had to lean in and take off his belt for him. I have never been so scared in my life. He collapsed as we walked down the corridor. 24 hours later, he had died.

The virus had attacked his brain.

I don't know how I coped. His brother was just four years old at the time. He was his little shadow and that's what breaks my heart. I had to get up every day because I had other children to deal with. My community and family helped me but I have bad days and good days.

I want other parents to realise that the only symptom was a headache. And while any headache doesn't mean it is meningitis, my message is to take no chances. This virus doesn't hang around. I want to warn people about this devastating disease so that they know it can strike at any age and that young adults are the second most at-risk group.I still ask myself, every day, what if I had gone sooner or realised quicker, but that is no use to anyone. For now, I focus on my children and my family and try to stay strong. It is what Keelan would have wanted."
Meningitis Awareness Week is this week. It is run by Meningitis Research Foundation (MRF).
Teenagers are a high-risk age group for meningitis and septicemia and university freshers are particularly at risk because they mix with so many other students from all over the country and abroad, some of whom are unknowingly carrying the bacteria
Meningitis and septicemia can develop suddenly and progress rapidly. Early symptoms include headaches, vomiting, limb pain, fever, and cold hands and feet. Students should be alert to the symptoms and should not wait for a rash or neck stiffness to develop before seeking medical attention urgently.