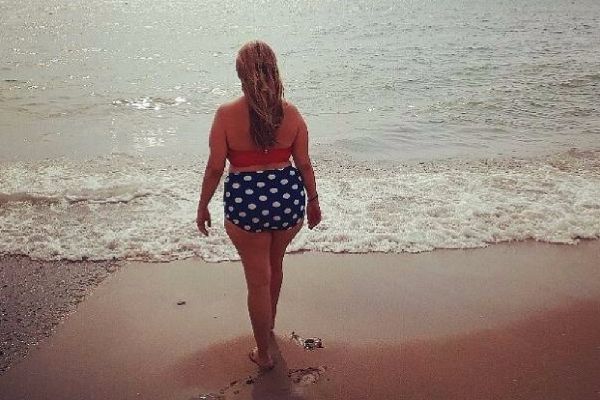 Tova Leigh is a successful actress, blogger and proud mum of three little girls.
While it may seem like she has it all, things weren't always so rosy for Tova.
At the age of ten, Tova overheard a remark that upset her greatly and years of yo-yo dieting and self-hatred.
"I was ten when I overheard my cousin say 'Tova will struggle with her weight her entire life' ", the mum blogger explained on Instagram.
"I had no idea what he meant, as far as I was concerned there was nothing wrong with my weight but something about that sentence stuck and it eventually became a reality.
"My first diet was at 15. I wasn't overweight but I didn't look like my friends who were tall and naturally thin, so I decided to have one meal a day.
"Sometimes that meal was an ice lolly or three pieces of chocolate and the weight came flying off".
Tova's eating disorder got so bad that she experienced amenorrhea and her periods stopped.
She started eating normally again for a while but it wasn't long before she was tempted to try yo-yo dieting again.
"I've been fat, I've been thin. I have changed my wardrobe because clothes were either too small or too big more times than I can remember, I had stretch marks on my stomach and boobs even before I became a mom from all the shrinking and expanding.
"I've been on every single diet there is on this planet and I even made up a few of my own", she explained.
But no what diet Tova tried, she still felt bad about herself.
"Even at my lowest weight when I was wearing tiny jeans and totally rocking a bikini, even then, I did not like my body", she explained.
"Well, I'm finally seeing the beauty from within that people speak about.
"The fact that my body is the only body I have and deserves to be loved for everything it has done for me".
Being a role model to three young girls forced Tova to think about how her body issues might impact on her daughters in the future.
"The fact that I cannot teach my own daughters self-love until I find self-love myself. And the fact that the only real source of pressure to look any different from how I look is coming from me.
"I have clung onto my size 12 for over a decade when the truth is I am really a size 16", she admitted.
"I'd much rather spend the rest of my life enjoying this body that gave me three healthy kids than focusing on charts and numbers. #RealisSexy", she wrote alongside a photo of herself smiling broadly while covered in Cadbury's Roses sweets.
Tova's story has certainly made us sit up and think about how body image and confidence issues can affect us all, even as children.
What do you think mums?