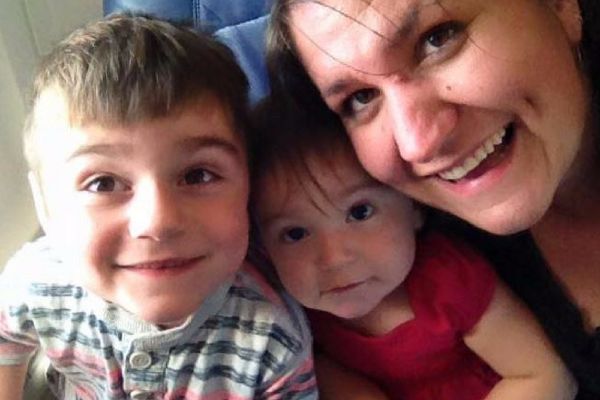 Britta Eberle says she "usually thinks she's a good mum" but recently something happened which caused her to doubt her abilities.
The This is Motherhood blogger, her husband and two children had gone on a family trip to see a friend. Two-year-old Ada, her youngest was strapped into her car seat in the back of the car.
She explains what happened next: "In our excitement we all darted out, assuming that someone else had remembered to grab the youngest member of our clan.
The family had gone back and forth from the car several times bringing in food and other items and in the confusion, little Ada was forgotten.
"No one remembered her. And she sat for about twenty minutes crying alone before one of us grabbed her. It was such a small mistake but it could have had devastating consequences," Britta explained.
Britta was plagued by overwhelming guilt for forgetting her own daughter and felt terrible about herself.
Thankfully apart from being upset, Ada was unharmed by the ordeal.
"Thank God we were parked in a safe place. Thank God it wasn't hot outside. Thank God she wasn't alone for long. Thank God she has already forgotten about it and forgiven us," Britta wrote.
"But it will be a long time before I forgive myself."
"I made a huge mistake today and I feel terrible. There are no excuses for what I did. And part of me doesn't want to share this. I don't want the world to know how badly I've failed. But then I think that I have to share this. I have to own up to my mistakes.
"I have to tell the world how far I am from perfect. And how if I did this, anyone could do this. And that scares me but also makes me judge a little less and makes me pay attention a whole lot more.
"Tonight, I snuggled my baby girl to bed. I read her a story, turned out the light, and stayed beside her listening to her breath got deeper and slower as she fell asleep. And felt so incredibly lucky. We are always so much closer to the edge than any of us realise.
"Hug your babies tight and practice forgiveness. Forgive those that make mistakes, even if the person who you need to forgive is yourself."
We think there's an important lesson to be learned from Britta's mistake. Even the best parents can make a mistake sometimes.
Thankfully, in this case, it all turned out OK and hopefully in time, Britta will feel better.