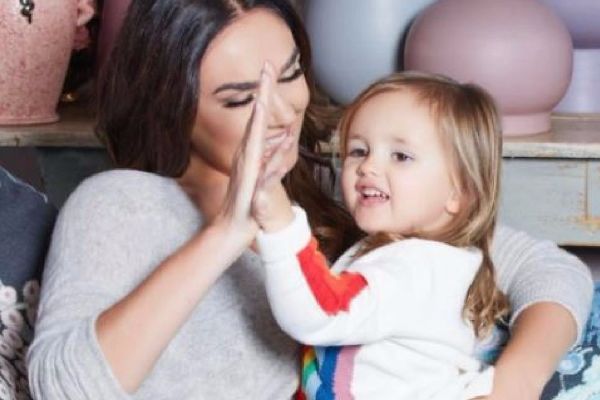 Socialite Tamara Ecclestone says she's happy to breastfeed her three-year-old daughter Sophia for as long as she needs.
In a recent interview with Hello magazine, Tamara admitted she still breastfeeds Sophia up to four times a day, once in the morning, once or twice during the day and before bed.
Posing with her little girl and a litter of cute Labrador puppies, Tamara explains she's not ready to "battle" with her little one by attempting to wean her off breastfeeding.
"I never want to feel I've taken something away from her, so when she decides she is done, it will be the end of that era."
The young mum defended her choice saying: "You know your child and you have to do what works for you as a family. I ignore the occasional nasty comment as I have so many nice messages from other mums."
Back in February Tamara hit out at those who criticised her decision to continue breastfeeding after she revealed a photoshoot of herself breastfeeding Sophia.
She said she found it "sad" that the act of breastfeeding could "evoke such hatred in so many bitter people.
"To me, there is nothing but love in this photograph and I find it such a shame that it brings out anger in some of you. It's sad that that's how you choose to live, those that have made comments trying to sexualise breastfeeding are particularly unwell.
"I chose love. I want my daughter to grow up in a better world where this is nothing but normal in a better world."
While Tamara agrees that she has a privileged lifestyle being the daughter of former Formula One boss Bernie Ecclestone, she says she has difficult times too.
"No one sees the time when you are up through the night, when Fifi (Sophia) is not feeling well, or when you are having a tricky moment.

She added: "I feel social media is like everyone's highlight reel. There are definitely some harder times, and I feel all mums should stick together and support each other."

Tamara says she and husband Jay Rutland are considering having more children."I do definitely want to have another child because I think it is so nice to have a sibling.
"Jay would definitely like more children. I think he'd like a little boy to take to football!"