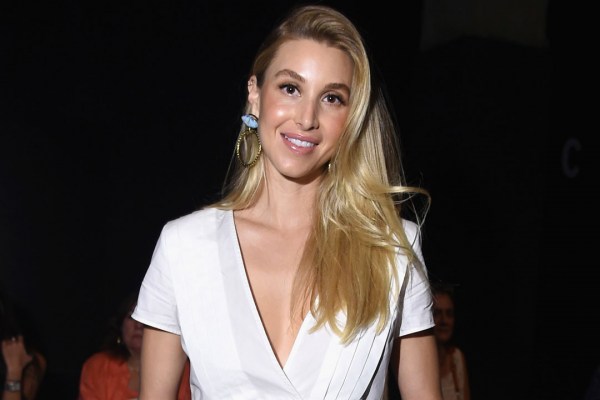 Mums are applauding Whitney Port for opening up about her post-baby body worries. The new mum's confidence has plummeted since she gave birth to her first child named Sonny.
In an honest video titled 'Love My Baby But, I Wish My Body Didn't Have To Change', Whitney discusses her body confidence woes.
She admitted that she felt superficial for discussing her body, but believes it's something mums should comfortably talk about.
The new mum wrote, "When I first found out I was pregnant, I immediately panicked about not being in control of my body and it got increasingly harder to feel good in my own skin."
One thing that helped distract her from her self-confidence issues was focusing on the baby growing in her belly. "I constantly had to remind myself that my body was creating something so wonderful, so beyond my comprehension or sensibility."
When she discovered the life-changing news that she was set to become a mum, Whitney was on her way to a pilates class. Fitness played a major role in her daily routine, but she wondered was there any point in working out when her body was about to undergo the biggest change.
Exercising helped Whitney cope with grief, she shared, "After my father died, fitness was something that really helped me process all of my emotions. It was a really great release for me."
Throughout her pregnancy, Whitney gained 40 pounds. She shared that gaining weight made her feel extremely overwhelmed, "I didn't want to get dressed. Putting together outfits for work or events was a stressful thing for me because I hated how I looked."
She understood that gaining weight was good for her baby, but regardless of that fact it made her feel unhappy, "I couldn't help from having those bad thoughts come in."
Whitney was worried that she would never lose the weight she gained during her pregnancy, "I was fearful that I'd never have my body back."
The doting mum opened up about the impact giving birth had on her sex life. She encouraged more mums to talk about how your intimate relationship changes after delivery.
She revealed she had a lot of anxiety about how labour would change her body, "You're pushing a baby out of a teeny hole and I was concerned about what that was going to do to our sex life."
She said many new worries filled her mind after delivering her son, Whitney said she often wondered if her husband would still find her attractive.
"I thought a lot about if you were attracted to me and that was hard because I was never insecure about that before," she told her husband Tim Rosenman.
Whitney's honesty is a breath of fresh air. Her truthful words have reassured many mums around the world.