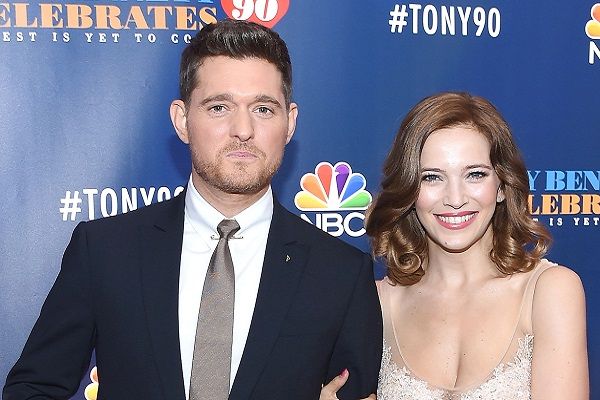 It is every parent's worst nightmare.
Singer Michael Bublé has revealed the moment he discovered his son, Noah's cancer diagnosis.
In the minutes before he was to step out on stage to perform on The One Show on BBC One, a text from his wife came through.
Michael's partner Luisana Lopilato in October 2016, told the singer something wasn't right with their three-year-old.
"Three minutes before I came on, my wife texted and told me something was wrong," he recalled during an interview with the Evening Standard.
Luisana also sent an image of Noah's surgical scan.
In reaction to the news, Michael said he "just died," however he took to the stage and performed.
"I don't know how I even sang, man, I just did it on autopilot," he explains.
In addition, his set included The Beach Boys' "God Only Knows," which brought memories of his kids flooding back.
"The worst part was I was singing a song I had recorded with my kids in mind — 'God only knows what I'd be without you…' " he said.
Noah, who was just three years old at the time had been diagnosed with liver cancer.
Immediately after the show, Michael jetted back to Los Angeles to be with his family.
They rallied around Noah during the next seven months he was admitted to hospital.
In early 2017, the little boy was finally allowed to go home.
Almost two years later and at four and a half years old his recovery is still ongoing.
"He's perfect," Bublé tells Evening Standard.
"Clinically speaking, it was a tumor within the liver. And the most important thing was to get it out, with clean margins. Because if you do, it goes from being this scary thing to just being tremendous odds."
"No one likes talking about percentages but, honestly, [we have] a percentage where we can live our life, and not live in fear every day. We know we're OK now. But what we went through was f—ing brutal," he adds.
The singer and his wife are also parents to two-year-old, Elias and are expecting a baby girl this month.
Michael is due to hold a concert for the first time since Noah's cancer battle on Friday.
He will be headlining a set at the British Summer Times festival in London's Hyde Park.
Fans will also be delighted to hear that a new album is set to be released this November.